Description
Physical Dimensions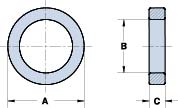 OD(A) = 2.40 in / 61.0 mm +/- 1.30 mm
ID(B) = 1.40 in / 35.55 mm +/- 0.85 mm
Ht(C) = 0.50 in / 12.7 mm +/- 0.50 mm
 AL=1075 +/- 20 %      uH=(AL*Turns2)/1000 
Actual measured AL using 10 turns #28 wire
Temperature Stability (ppm /°C) = 12500
Color Code = shiny black
Application Freq Range
Wideband Transformers 5 - 400 MHz
Power Transformers 0.5 - 30 MHz
RFI Suppression 5 - 500 MHz
The Al-factor and 1 turn Z impedance FRQ charts of the ferrite core can be downloaded from the attached documents. 
Reviews
Viczián László
|
Verified purchase
24/03/2022
Hasznos termék jó áron és gyorsan megkapható.
HA7AT
|
Verified purchase
21/02/2020
1:9 balun készitettem belöle nagyon jol müködik veszteség minimális 1MHz-29MHz ig ok 3x9 menet.

Markovics Jenő
|
Verified purchase
18/02/2020
Meg vagyok elégedve a termékek minőségével,a kiszolgálással,és a szállítás gyorsaságával is.
János
|
Verified purchase
11/02/2020
Megint tökéletesen működött minden. A csomagot, az ügyintéző hölgy által ígért időpontra megkaptam. Nagyon köszönöm, a csapat munkáját.
János
|
Verified purchase
27/01/2020
A vásárlás menete, a cégtől megszokott 5 csillagos minőségben zajlott. A rendelés után két nappal, már a kezemben volt az áru. A termék minősége kifogástalan, a belőle készült 1:9 balun 100%-an teszi a dolgát.

Viszont amit nem lehet csillagokban kifejezni, az a szállítás közben megsérült termékem kicserélésére tett erőfeszítése, az ügyintéző úrnak. Ahogy jeleztem a gondomat, azonnal intézkedett, az ügy megoldása érdekében. Mindezt határtalan kedvességgel, tisztelettel, bizalommal. Ezek a mai világban megfizethetetlenek. Igen, teljesen elégedett vagyok. Annyira, hogy megy is a következő rendelés…