Description
AMIDON FT50-75 FERRITE TOROID
Physical Dimensions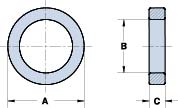 OD(A) = 0.5 in / 12.7 mm +/- 0.25 mm
ID(B) = 0.281 in / 7.15 mm +/- 0.20 mm
Ht(C) = 0.188 in / 4.9 mm +/- 0.25 mm
 AL=4200 +/- 20 %      uH=(AL*Turns2)/1000 
Actual measured AL using 10 turns #28 wire
Temperature Stability (ppm /°C) = 6000
Color Code = shiny black
Application Freq Range
Wideband Transformers 1 - 50 MHz
Power Transformers 0.1 - 3 MHz
RFI Suppression - above 1 MHz
The Al-factor and 1 turn Z impedance FRQ charts of the ferrite core can be downloaded from the attached documents. 
Reviews
Finbar O'Connor
|
Verified purchase
18/04/2023
My order was processed very quickly and I received by post , well packed and secure.
I consider your service to be efficient and would use you again for further purchases.

Szarka Loránd
|
Verified purchase
03/08/2022
Anico minőség. A termék kiváló minőségű, a szállítás gyors.
Join our community for interesting content