Caltta meets the expectations in the field of digital industrial transceivers
In Hungary, Caltta introduced their eChat PoC (internet-based) radio system in 2019, but the company has also developed a range of devices for user target groups who require different technology: for example there also are conventional VHF/UHF PMR and DMR (digital) transceivers and combined PoC/DMR transceivers. For DMR radios, a complete repeater system and dispatching interface are also available.
What features should a professional two-way radio have?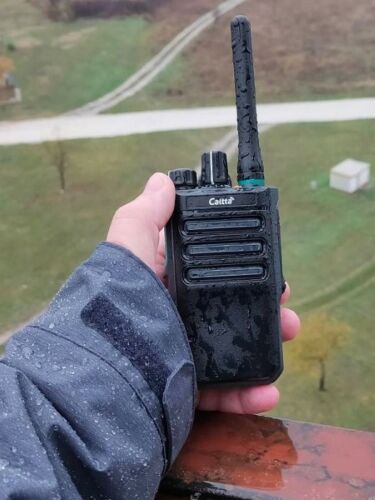 When looking for an industrial transceiver for a job, users and experts alike agree that size and ease of use are among the main considerations. For many tasks, a device without a display is sufficient (in fact, it is preferable to have no display), and long operating time and high volume levels are the most important features, along with a durable shell design. The PH600 waterproof transceivers meet these requirements.
What you get in the box together with this device:
(clean paper box, no frills)

instructions for use 

1 transceiver

1pc Li-ion 2600mAh battery 

1pc Li-ion battery pack 

1pc belt buckle 

1pc docking charger base

1pc  12V wall adapter (EU) 

1pc protection cover for the headset connector 
The PH600 has the same IP68 rated and Mil-STD-810 G military standard compliant enclosure as the eChat E600 PoC radio. Thanks to its complete dust and water resistance, it has become a truly rugged radio designed for tough working conditions. The same casing has other advantages: a compatible headset and programming cable. This is a commendable and very practical approach, since if several types of radio systems are used in a company, concurrently and in addition to each other, the accessories of the similar devices are interchangeable, regardless of the transmission technology the radios employ.
 
Features of the Caltta PH600 transceiver
Let's see what this little transceiver can do. Available in both UHF and VHF versions, the PH600 can work with 1W or 4W output power in transmit. Anico currently has a UHF version available, this may change in the future, so keep an eye on the product datasheet for more information. The device has a choice of 16 channels with the channel selector. But we have 32 memory slots that can be arranged into 2 zones with up to 16 channels per zone. You can switch between zones by pressing the function button.
Please remember that the operation of this transceiver requires a frequency licence from the telecommunications authority. 
In addition to analogue FM, PH600 can also operate in DMR mode, i.e. digital mode, which is based on the globally recognised ETSI standard. ETSI standard DMR is the most widely used technology among professional transceiver manufacturers (such as Motorola's MOTOTRBO range). The Caltta PH600 range complies with the DMR TIER II standard, so it can utilise one single frequency or two voice communication channels at the same time - a big advantage for repeater use. However, if you are out of repeater range or you just want to communicate without it, it will work perfectly in DMO mode.
The PH600 and PH600L models in the range are almost identical, the only difference being that the PH600 model has Bluetooth and GPS capability, which the PH600L does not. 
What the PH600L does have, however, is vibration mode and man down alarm function, as well as speech encryption.
Vibration mode
The vibration function is only available on few radio models, and fortunately the PH600 is among those few. It is best used when worn directly on the body or in a jacket pocket, but its advantages need not be explained. Vibration mode is only active in DMR mode and not continuously. If you talk with small pauses, the vibration only starts when the first transmission is started. After longer pauses, however, it is reactivated. 
Mandown alarm
When activated, and if the radio is tilted, the alarm will sound unless the normal tilt angle is restored within the pre-set time. When programming the device, you can choose between 3 different tilt angles (30/45/60 degrees), set the time-period after which the function should be activated and whether the device should trigger an alarm or call a user, group or dispatcher.
Voice encryption - even more secure communication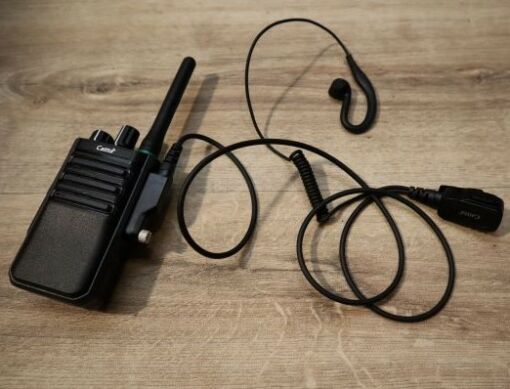 In DMR mode, you can choose between several speech encryption keys: you can set a sequence of 10/32/64 numbers, which only another Caltta DMR radio that knows these numbers will be able to decrypt. 
Audio
To ensure water resistance, the radio headset connector is not a standard Jack plug solution, but a multi-contact waterproof plug-in connector. As mentioned above, the enclosure match makes the headsets of the eChat E600 and E690 PoC devices compatible with the PH600. The headset attachment is robust, strong and virtually crush-proof.
If you work in different working environments: in noise or in a quieter hall, you can program the microphones' sensitivity to suit your working environment. Not only the radio's own microphone, but also that of the headset. 
Power supply is also an important consideration
The PH600 is powered by a 2600mAh/19.2Wh Li-ion battery pack, which is proportionate to the radio body and just thicker. True, the battery is heavier than the radio body itself, but when assembled, it provides good weight distribution and a comfortable grip. Charging is done with a handy desktop docking charger offering convenience to industrial transceivers.

By programming both the analogue and especially the DMR functions, you can set a lot of parameters, such as:
Squelch (noise-lock) level

volume of the sound signal

switch on/off the sound menu/voice assistant

turn off the built-in PTT button

setting of sound alerts: silence, end of call sound, low battery warning sound, private call tone, group call tone, keypad tones, scan tone, emergency call button tone

vibration

LED setting: transmit, receive, low battery, scan LED indication

microphone adjustment: external/ internal microphone signal level

VOX - hands-free use

Mandown: signal time, tilt angle adjustment options

disable CPS write function, disable changing of the programming password

speech encryption

activate battery saving mode

analogue and digital channel settings

channel scanning

additional functions can be programmed for use with repeater and dispatcher


 
In summary, you get a robust, easy-to-use work radio with a large battery capacity; it sounds nice, it can be skinned in dust and mud, and it won't give up in wet environments. And when connected to a system built with Caltta DMR repeaters, possibly linked to a dispatch platform, you get even more out of this radio than just voice connectivity.