For now, only demo units are available, but soon the shipment will arrive and the device will be available for purchase from Anico Kft.
But what's so interesting about the new eChat E720 transceiver...or smartphone?
Based on the experience of eChat E700 users, Caltta has made an improved version of the E700 in 2022 and launched a transceiver for team leaders and supervisors. Specifically designed for people who are in charge of work management, for those who have extra tasks and last but not least for "big bosses", the manufacturer has made this device multifunctional.
For testing we received a dual SIM card device that can work on 2G, 3G and 4G European networks:
2G/3G/4G, public LTE (TDD:B38 / B39 / B40 / B41; FDD:B1 / B3 / B20 / B28) (Support LTE/WCDMA/GSM, Support LTE FDD:B1/B2/B3/B4/B5/B7/B8/B20/B26/B28A/B28B, Support LTE TDD:B38/B39/B40/B41, Support WCDMA:B1/B8, Support GSM:B3/B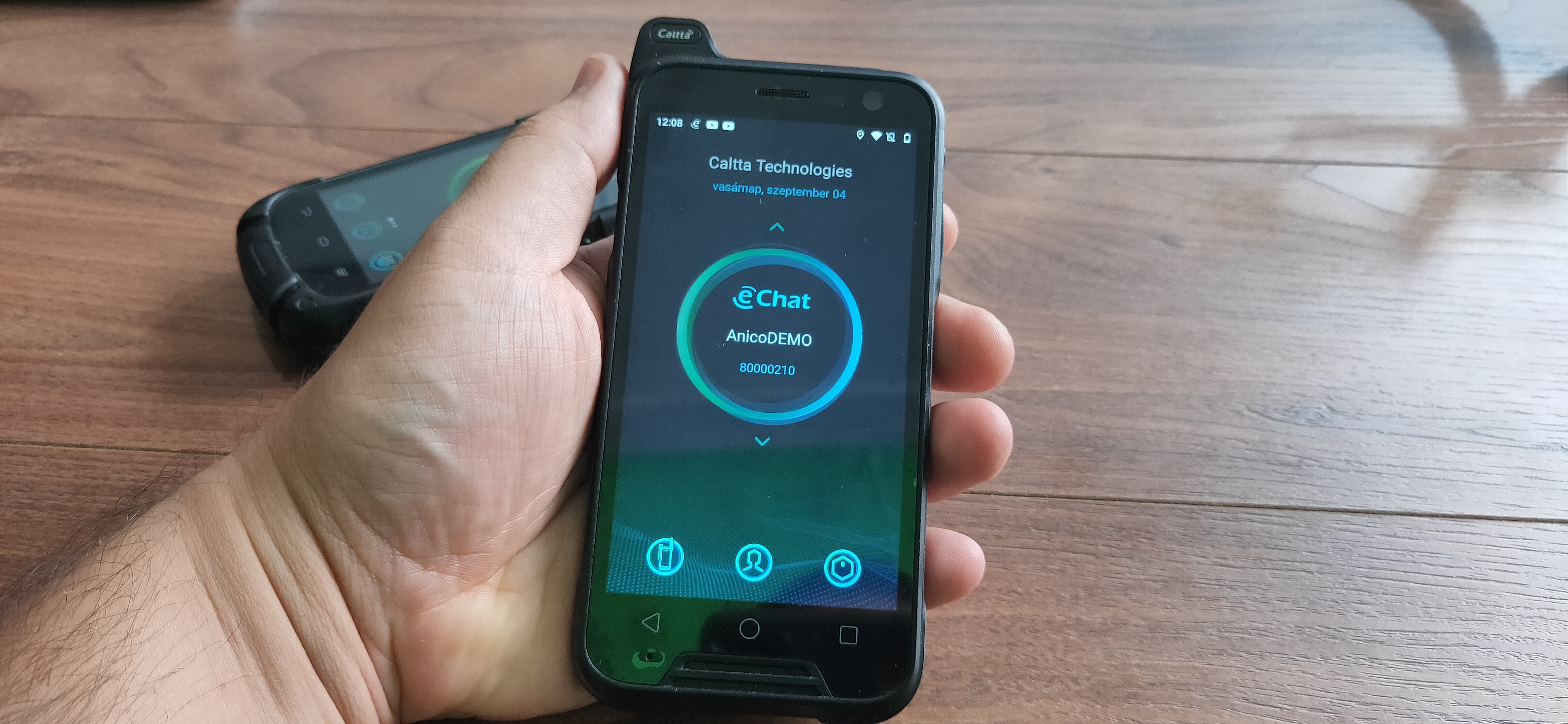 Under the skin of the smartphone is a power efficient but powerful 8-core A53 2GHZ processor. It comes with 4GB of memory and 64GB of backup storage, expandable up to 128GB via Micro SD card. The processor is powerful enough to handle everyday tasks and run multiple programs simultaneously. The 13-megapixel front and rear cameras are also impressive. Video recording resolution has increased compared to the eChat E700, with the rear camera now capable of 1080p video recording. The display resolution and usability have also moved up a class: the 1280x720 pixel HD display can now be used with gloves on!
The eChat Shell interface is an integral part of Android 11 on the device, which now has full Google support, so you can use all Google services on the device. While the eChat E700 predecessor was specifically designed to perform simple tasks, the eChat E720 gives you a free hand with Android applications.
Alongside the 2.4GHz, 5GHz WIFI also helps you communicate faster and take advantage of faster internet speeds. It's worth noting that the radio finally has NFC support, so you can even use it to read access cards and IDs, or even pay by credit card with the eChat E720. As for positioning, the E720's GPS receiver is compatible with GPS/Glonass/Beidou and AGPS systems.
The headset can be controlled via the Type-C connector, and the headset is also compatible with the eChat E350 headset. For wireless audio devices, a 4.2 Bluetooth connection allows you to connect either Caltta's eChat PTT button headset or standard Bluetooth headsets.
The battery for intensive work has also been redesigned, with an easily replaceable 4200MAh battery built into the back. Fast charging is also available thanks to Type-C, but you'll also be able to charge it via a desktop docking charger.
A useful addition is the strong belt buckle that comes with the eChat E690, which can be easily removed from the back.
The rugged casing of the eChat E700, which is really just a tiny bit larger than that of the eChat E700, is IP68 rated, so it can withstand the rigours of the office as well as the field. You can even use it in rain or dusty environments. Dropping the radio in water is no problem either.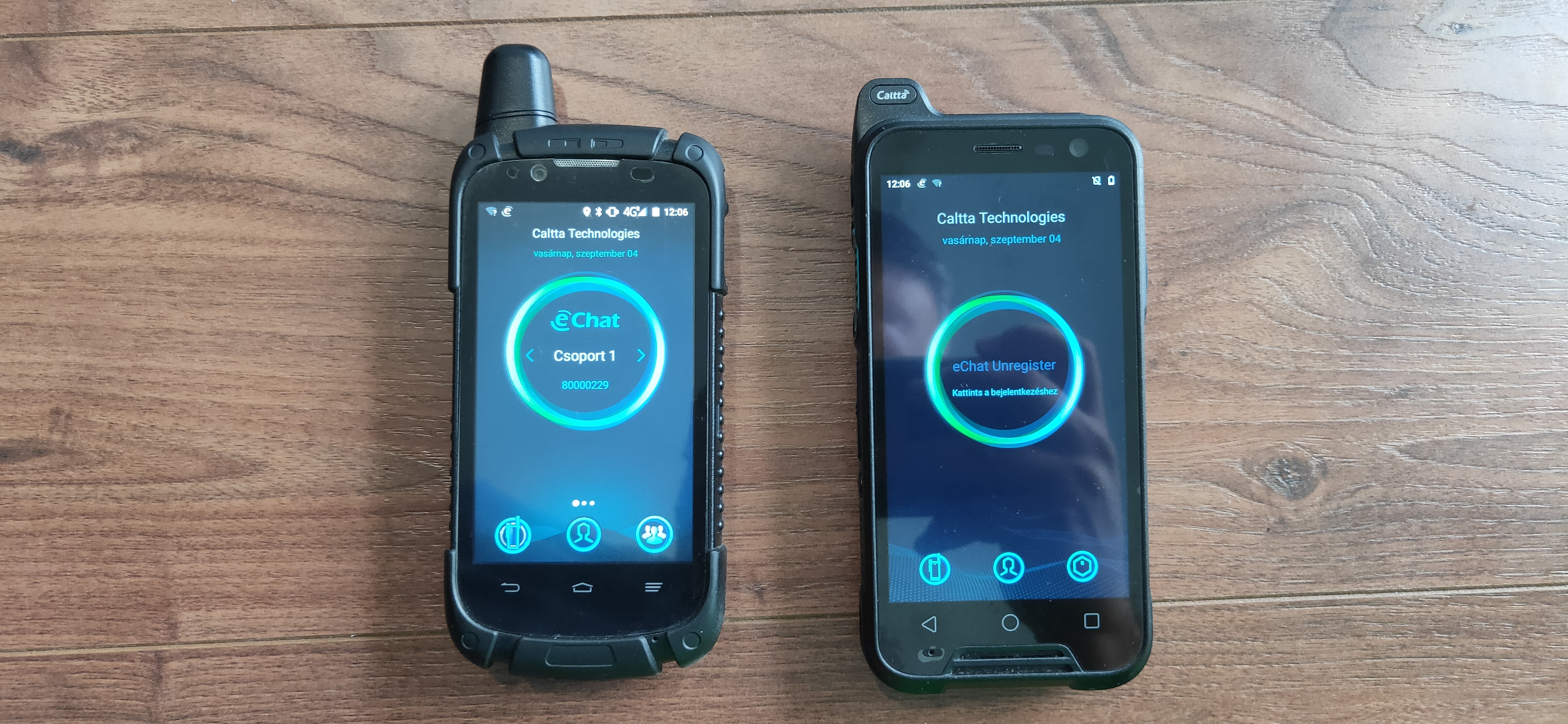 This configuration will serve your smartphone needs for daily tasks to the maximum.
More technical information can be found on the eChat E720 product sheet in the webshop, where it is available for pre-order.
For any questions, eChat customer support is also at your disposal!
Would you like to try the eChat E720 transceiver? Fill in our demo transceiver request form and we will contact you: https://www.anico-hamshop.eu/anico_demo