PoC transceivers, just like traditional two-way radios, provide communication for teams (work groups, channels);  however, instead of direct radio contact, these transceivers use the internet to carry the signals between transceivers. This ensures virtually infinite talking range.
PoC devices are two-way radios and VoIP devices in one.  The technology combines the potentials of both traditional radio and the internet. It allows us to communicate with complete groups of people, while distances are no longer an obstacle. Besides traditional two-way radio functionality, eChat PoC transceivers also offer several additional digitial services, like:
Dispatcher software compatibility
Call recording
Setting up temporary talk groups
Private calls
A virtually indefinite number of talk groups with channel and user priorities
GPS based location services: tracking, alarm upon entering or leaving pre-defined geographic areas
Android operating system, Over-the-Air software updates.
Further features of eChat PoC transceivers:
high capacity battery
industrial grade protection: high resistance to water, dust and shock.
network-independence:  the transceivers can be used in the whole area of the European Union without roaming charges, or in any country using a local SIM-card.
wired and Bluetooth accessories.
 
PoC service provider
For PoC systems to operate, there is need for a PoC service provider, as server computers are required to route and connect calls in the network.
In the eChat system, this service is provided by Anico Kft in Hungary. The technology and the terminal devices are developed by Caltta, the two-way radio subsidiary of ZTE, who tailored the software specifically for Anico Kft and its customers.
 
Benefits of PoC compared to other technologies
Efficient communication is a key to maintaining an efficient workflow. Why should you choose eChat PoC transceivers while there are several other options to equip your staff with communication devices, including mobile phones, license-free or licensed, industrial transceivers?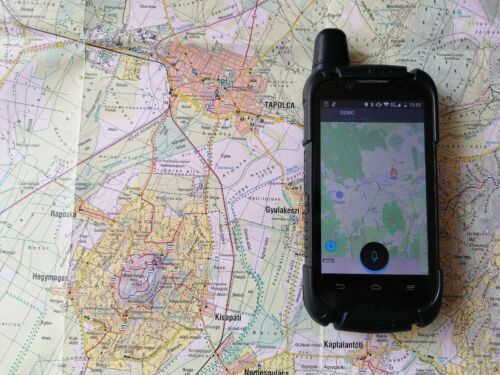 Compared to mobile phones:
PTT (push-to-talk) button: there is no connection time; instant connection upon pressing the button
Group talk:  everybody in the same talk group can hear what you are saying
Compared to license-free transceivers:
Closed communication; no outsider can eavesdrop or disturb you on your channel
Virtually infinite range: coverage is limited only by the availability of internet access
Compared to Industrial (licensed) transceivers:
Virtually no geographic limit to range; you can even use your transceivers to communicate between distant sites
A cost-effective alternative to professional, repeater-based radio networks; lower investment and reduced maintenance cost as there are no planning and frequency usage fees
No planning and licensing process, quick system deployment
Benefits of Anico eChat 
Servers are hosted in Hungary and operated by Anico Kft; this ensures broader bandwidth, lower latency, GDPR-compatible data protection
Customer service in Hungary available in the English and Hungarian languages
Devices and dispatcher software feature Hungarian language menus; no foreign language proficiency is required from users
eChat dispatcher software running on Windows which makes efficient workflow management much easier
 
"I have been dealing with radio communications as an amateur radio operator and as a planning engineer of professional radio systems since the 1980s, but even to me, the new potentials opened by internet technology and PoC systems open new horizons."
József Dévényi, founding owner of Anico Kft

For further information about the eChat POC system click here ; write email to poc@anico.hu , or call: +36 1 555 6111