IP and IPX protection play an important role in the safe use of electronic devices, especially transceivers. The IP marking defines the level of protection the device provides against solid particles and liquids.
IP, or Ingress Protection standard, is an international classification system that defines the level of protection of different devices against the ingress of solid particles (dust, sand, etc.) and liquids. The numbers are in two digits, the first number indicating the level of protection against dust on a scale from 0 to 6 and the second number indicating the level of protection against liquids on a scale from 0 to 9. So the higher the number, the better the protection. It may also contain an X, which means that the product has not been tested in the appropriate category (neither solid nor liquid).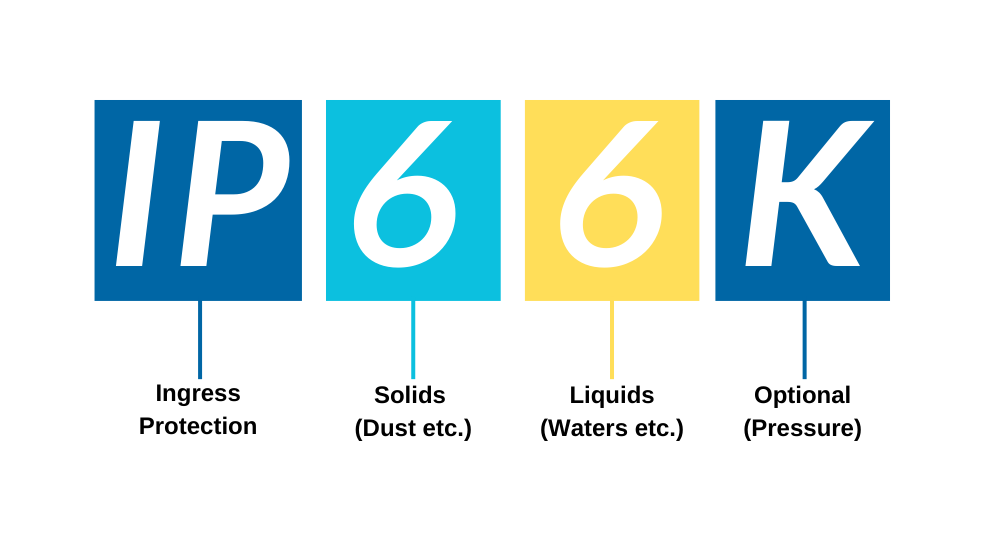 The classifications for protection against solid bodies are as follows:
0 - no protection provided
1 - protection against solid objects larger than 50 mm
2 - protection against solid objects larger than 12.5 mm
3 - protection against solid objects larger than 2.5 mm
4 - protection against solid objects larger than 1 mm
5 - protected against quantities of dust which may interfere with the normal operation of the product but not completely dust-free and complete protection against solid objects
6 - completely dust-free and fully protected against solid objects
The protection against liquids is classified as follows: 
0 - no protection provided
1 - protection against vertical drops of water
2 - protection against vertical drops of water when the product is tilted up to 15° from its normal position
3 - protection against direct water spray at any angle up to 60°
4 - protection against water splashing from any angle
5 - protection against water jets emitted by the nozzle (6.3 mm) from any angle
6 - protection against strong water jets emitted by the nozzle (12.5 mm) from any angle
7 - protection against immersion in water at a depth of between 15 cm and 1 m for up to 30 minutes
8 - protection against prolonged immersion in water at depths exceeding 1 metre
9K - protection against the effects of high pressure water jets and steam cleaning
Let's take a look at some examples from Anico's current range! 
PMR446 - walkie talkies
The smallest member of the Motorola Talkabout range, the T42 has basic features and does not have any IP protection. The Motorola Talkabout T62 has more features, but it does not have IP protection. In rainy or humid weather, it needs to be taken care of. The Motorola Talkabout T82 is IPX2 rated, so it can withstand raindrops and splashing water. The T82 Extreme is rated IPX4 and the T72 is IPX54. At the end of the range is the T92 H2O, the most rugged in its class, rated IP68.
PMR446 industrial transceivers (for use without frequency licence)
Industrial PMR446 transceivers are already required to have a basic level of IP protection. As they are work equipment, they must be protected against external influences. The XT185 and XT420 transceivers are IP54 rated.
Industrial VHF Transceivers 
The transceivers with an industrial licence are the most rugged and are designed for all-day use. In many cases they have a minimum IP68 rating. The complete range of Caltta's handheld transceivers, including the PH600, PH660 and PH690, are IP68 rated.
POC Internet based transceivers
Caltta's eChat POC transceivers are IP54 rated. These include the E350 and E360, as well as the E700 POC. However, if you are looking for a device for more rugged terrain and bad weather conditions, the E600, E690 and E720 are a better choice for the eChat portfolio. The Motorola Wave TLK-100 internet based radios are IP54 rated.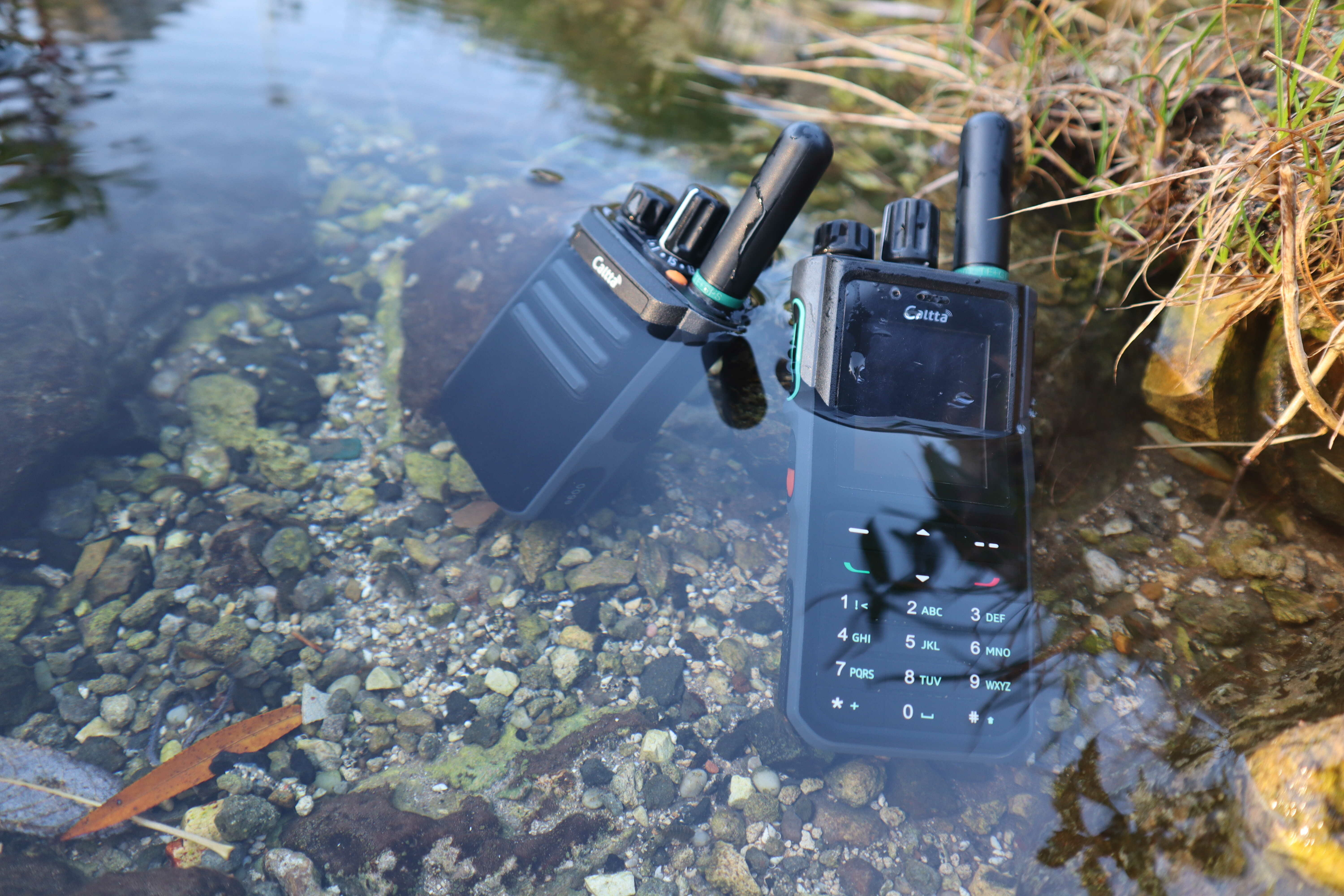 Marine radios 
The marine radios are 100% waterproof as they are specifically designed for wet environments. These devices also include extra features such as floating on water. The Motorola T92 H2O in the hobby category can also do this.
Standard Horizon marine radios from Yaesu are also fully waterproof models. The HX-210E handheld marine radio has an IPX7 waterproof rating (3.3 feet or 1 metre for 30 minutes). The Standard Horizon HX-300E handheld marine radio is a water float and submersible design, and an LED light activates when dropped in the water, so you can quickly find the IPX8 rated unit. The GX-1400E and HX-890E models are IPX8 waterproof, the latter being a floating design.
An interesting piece of information about marine radios is that the Eclipse series radios come with a 3-year waterproof warranty from Standard Horizon. If the radio fails for any reason (including water damage) during normal use within the first three years, Standard Horizon will repair or replace it free of charge. If it should fail at any time after normal use for as long as the original purchaser owns the radio, it will be covered by its lifetime flat rate and customer loyalty service programs. 
Airband radios
The available Yaesu FTA series of airband transceivers are all IPX5 rated, which means they are protected against water jets of up to 6.3 mm from all directions. So these devices are rainproof.
Amateur radios
The vast majority of amateur transmitters are IP54 rated, because they are not designed for extreme use. The Yaesu FT-4X, FT-65 and FT-70 are also IP54 rated. So they are amply protected against dust and water for general amateur radio use. The FT-5D, on the other hand, is in the top category not only in terms of its capability but also in terms of its IP protection, as it is already IPX7 rated. This means that it has maximum protection against moisture and water ingress, even when submerged in water.