M10-300-20 13.8V 20A LINEAR POWER SUPPLY
Click to enlarge

Price:

62.69 EUR

(52.24 EUR + VAT)

Sale duration:

07/01/2019 - 31/12/2019

Model:

M10-300-20

Availability:

On stock

Average Rating:
Not Rated
M10-300-20 linear power supply 13.8V 20A with battery backup function. Recommended to use with professional mobile radios as base stations.Motorola, Vertex Standard, Yaesu and Wouxun mobile radios for base stations usage.
M10-300-20 power supply features:
Az M10-300-20 is an economic type of DC regulated power supply. The full-load operating time is 30 minutes. It can be used to fit with communication equipment and other appliance. There is ·input fuse protecting for AC input and current-limiting or short-circuit protection for DC output.
M10-300-20 power supply specifications:
Input voltage: 220VAC ±20%, 50Hz/60Hz

Output voltage: 13.8VDC

Cont.: 16A

Surge current: 20A

Ripple voltage: 80mV

Protection: Short circuit

Source regulation: 3%

Load regulation: 5%

Battery charge: 12VDC

Battery input: 12VDC

Dimensions: 200(W)X 115(H)X280(D)

Weight: 7 kg.
Attention!!!! A PSU has soft start circuit. Turning on you can hear some stronger hum for some second. Please do not turn it on with load! Wait 20-30 seconds after turning off to turn on again. Fast turning on-off-on may cause the fuse blowing. Please replace by only with 5x20mm, 2-2.5A, glass, slow (time-lag) fuse. Do not use fast fuse because the start current will bow it out.
There are no reviews for this product.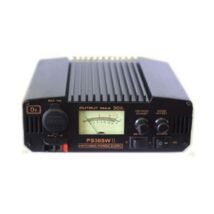 Other products you may like