Description
Microham CW KEYER is a powerful USB CW interface/memory keyer based on the K1EL chip and microKEYE. Microham CW KEYER provides the unmatched CW features of the original microKEYER and a USB radio control interface in a small, readily portable package for those with no need for the audio handling capabilities of microKEYER.  Microham CW KEYER uses a single USB port can be interfaced with many logging programs for both radio control and CW transmission. Microham CW KEYER supports a PS/2 keyboard CW generation or control of the memory keyer functions (including contest serial number generation) or a PS/2 keypad for control of the memory functions. The keyboard and keypad function whether Microham CW KEYER is connected to a computer on not.
The interface is suitable for connecting any type of transceiver that has a CAT port. For example, Yaesu, Kenwood, Icom, Elecraft, Ten-Tec.
Microham CW box contains: cw keyer, USB A/B cable, clip on ferrit rfi filter, power connector (the power cord must be made by you), installation cd
The device is compatible with a wide range of radios, so you need to create a radio-specific cable, it is not supplied in the box. Cabling and device setup can be downloaded here: http://www.microham.com/contents/en-us/d137.html
Driver software and user manual can be downloaded here: http://www.microham.com/contents/en-us/d29_downloads.html
Microham CW KEYER block diagram: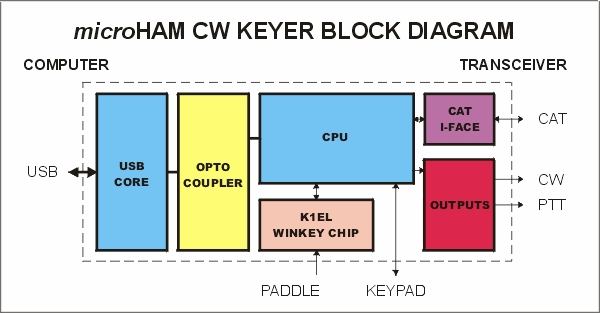 Microham CW KEYER features:
No COM or LPT port necessary, just one USB port
Complete "Computer <-> Radio" electrical isolation
optical isolation of ALL signals -> Radio Control, CW, PTT
Compatible with most standard MS Windows based logging or control software
special microHAM "USB Device Router" program creates virtual COM ports as needed for full functionality with your favorite programs

customizable presets to instantly change CW KEYER parameters for the various requirements of different programs
Integrated computer control port for all radios CI-V, FIF-232, IF-232, RS-232
fully supported Icom, Kenwood, Ten Tec, Yaesu and other radios

no separate level converter required
Integrated superior K1EL WinKey™ chip with extended capabilities for superior CW
front panel speed knob

nine (9) user programmable memories

PS/2 keyboard/keypad support for direct CW sending

PS/2 keyboard/keypad support for instant CW message playback and function handling

PS/2 keyboard/keypad CW works without computer connection

precisely timed auto PTT

selectable side tone

all parameters are stored inside the CW KEYER memory and reloaded after power up
Strong RFI immunity
integrated chokes and filters for best RFI immunity

advanced shielding and circuit design for RFI product suppression
Quick change connectors
USB, Radio CAT - 1/8"

Paddle - 1/4", PS/2 - MiniDIN6, CW - RCA, PTT - RCA
Front panel LEDs for easy visual feedback of CW and PTT
Metal/Aluminum case, powder coated and silk screened
Free, time unlimited firmware/software upgrades via Internet
Microham CW KEYER specifications:
| | |
| --- | --- |
| USB | USB 2.0 Full speed , USB 1.1 compatible |
| Power consumption | USB side - up to 100mA Transceiver side up to 100mA at 13.8V (max. 16V) |
| Radio Port | RXD, TXD max. 57600Bd - levels:TTL, inverted TTL, open collector bus, RS232 |
| CW | open collector, max 30V/400mA |
| PTT | open collector, max 30V/400mA |
| Dimensions | W 103mm (4.05") x H 44mm (1.73") x D 85mm (3.35") |
| Weight | 600g (1.3lbs) |
| Requirements | Minimal - PC with Win98SE, 48MB RAM, CD-ROM, USB1.1 port, Transceiver, logger or control software (any) |
| Recommended | PC with WinXP or higher, 256MB RAM, CD-ROM, USB2.0 port, Transceiver with computer port, CW paddle, PS/2 keypad, logger or control software (any) |
| Also suported | Apple G4 or later and OS-X 10.0 or later with MacLoggerDX from DogParkSoftware, Ltd. Nativelly supported by cocoaMode |
| Note | Windows Millennium Edition Windows ME is not supported |
Reviews
There are no reviews for this product.
Other products you may like