Description
Motorola CLR446 Unlicensed Business Two-Way Radio
Small. Versatile. Powerful.
Clear communication is critical for all teams. Whether you are supervising a production line, monitoring the school playground, serving customers in a store, or managing an office, you need to be able to connect instantly and share information with your team.
The CLR446 is the small, lightweight and easy to use radio with push-to-talk (PTT) operation for communication in an instant. The CLR Series is your essential communication tool built to last all day, every day. 
Reduce missed messages with louder and clearer audio from the built-in speaker or compatible headsets for precise communication between users. All this performance is protected by a rugged radio housing and long lasting battery. 
The CLR Series is ready to provide all day performance and is customisable to your work environment with licensed and unlicensed radio models and a range of radio accessories including chargers, carry options and earpieces. 
 
Features of Motorola CLR446 Unlicensed Business Two-Way Radio
STYLISH, COMPACT AND DURABLE DESIGN
A sleek design, small enough to fit in the palm of your hand. IP52 andMilitary Standard 810H rated to survive dust, water, vibration, shock and temperature extremes.
OVERSIZED PTT BUTTON
Easily located for instant use without the need to look at the radio.
UP TO 18 HOUR BATTERY LIFE
Power through a full shift with up to 18 hours of battery life from a full charge.
AUDIO, CARRY, AND CHARGING ACCESSORIES
Compliment your workstyle with a variety of accessories designed for the CLR Series.
ESCALATE CALL
Initiate an important call or alert users on another channel to immediately communicate a message in high-risk situations, keeping your teams and assets safer when an incident occurs.
VOICE GUIDED NAVIGATION
Help your staff to easily learn the system with voice guided menus. The CLR allows you to use pre-defined voice prompts for your channels or add custom voice prompts to help your staff identify the channel they should be using.
16 CHANNELS & 219 PRIVACY CODES
Multiple channels give you the flexibility to keep different teams on separate channels and keep your staff focused on their roles. Privacy codes can be added to protect communications from neighbouring groups.

Additional features of Motorola CLR446 u

nlicensed transceiver
VOX hands free
6 call tones
Mute
15 volume levels
Scan/monitor
Antimicrobial coating2
Customer programming software (CPS)
0.5W Loudspeaker
8-Colour LED for channel, mode, and battery indication
 
Motorola CLR446 

Unlicensed Business Two-Way Radio Box contains:
Motorola CLR446 unlicensed radio box contains
holster (HKLN5006A)
travel charger EU adapter (PS000228A02)
travel charger UK adapter (PS000228A03)
unit tray (PMLN7139A)
battery Li-ion 1800 mAh (HKNN4013ASP01)
user manual
 
Blog Articles:
Introducing Motorola's latest business PMR transceiver: the CLR446
PMR446 frequency table
| | |
| --- | --- |
| Motorola CLR446 Parameters | |
| GENERAL SPECIFICATIONS | |
| Frequency Band | PMR446 446.0-446.2 MHz |
| Range Unit to Unit | 14,000 m2 (150,000 ft2 ) / 10 floors |
| Channel Capacity | 16 |
| Channel Bandwidth | 12.5 kHz |
| PL Codes (Privacy Codes) | 39 std + 6 custom |
| DPL Codes (Privacy Codes) 84 std + 84 inverted + 6 custom | |
| Average Battery Life @ 5/5/90 | 18 hours (with Standard Li-Ion Battery BT90 1800 mAh) |
| Radio Dimensions (H x W x D) | 107 x 51 x 23 mm |
| Weight | 126g (Radio w/Standard Li-Ion Battery BT90) |
| ENVIRONMENTAL SPECS | |
| Operating Temperature | - 30°C to + 60°C6 (Radio) |
| Shock & Vibration | Polycarbonate Housing Passes EIA 603 |
| Humidity | Satisfied EIA 603 |
| Dust & Water Intrusion | IP52 |
Reviews
There are no reviews for this product.
Similar products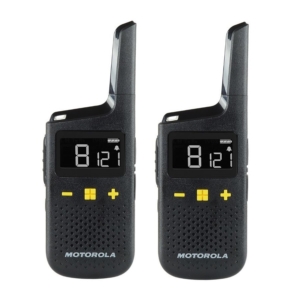 Join our community for interesting content