We could see the device live for the first time in June 2022, and we also got a detailed demonstration of it at Motorola's Hungarian reseller day organized by Anico. Unfortunately, the smart device (terminal? phone? transceiver? scanner?) could only stay with us for the demonstration, so we couldn't get to know it better. We had to wait almost a year for the sample test devices to arrive. 
Was it worth the wait? It indeed was!
But what is Motorola ION really?
The Motorola ION can be defined as a 3-in-1 device, as it was designed by the engineers to replace several devices. You could say that they merged Evolve (POC) and R7 (DMR) radios into one. Thus we have a full-fledged Mototrbo DMR transceiver with Android operating systemworking. In addition to the basic model, there are several versions of the ION available, we have the GSM call-free version with eSIM and physical SIM, 4G data connectivity, SMS sending and receiving, 2.4G and 5G WiFi.
Exterior
The device looks huge next to an average phone or transceiver with its large display and thick casing. However, it's still easy to grip and a user with an average hand size can handle it comfortably, even with gloves on. The radio looks good, it has retained atraditional transceiver shape, and also the removable battery.
A choice of batteries are also available, so you can vary the operating time much more than with similar devices from competitors. This is important because smartphone + transceiver combos from other manufacturers do not usually sport a removable battery. 
The ION is IP68 rated, so it can also survive in wet/dusty environments. For extra protection, the belt buckle frame has been reversed (a framing solution found on many Motorola transceivers, but here it has been included to protect the front panel and display).
Voice
We are talking about a transceiver here, and when we raise it to our mouth, we reflexively think of it as such. Therefore, no attempt has been made to hide the huge microphone slot in the casing, which is located above the display. The speaker is positioned under the display on the front panel and we can't complain about it, it does its job loud and clear, whether it's a transceiver function or a multimedia application.
Controls are the same as on more traditional transceivers, with the same handy function buttons; power button, volume control and channel selector. However, using them means that you don't always have to tap the touch screen.
Android and hardware 
If it is a smart device, then it should be modern, the user would say, and we're not disappointed, because the first ION devices run Android 10, and the devices that are to arrive will already be running Android 11.  
So what does this Android actually run on? A Snapdragon 660 processor takes care of system tasks. It's packed with 4GB of RAM and 64GB of storage for everyday tasks so that the system can work smoothly and quickly while running up to 3-4 apps continuously. 
It's not a high-end phone, and of course, it is not designed to be one, however, it's power efficient while still powerful. Android comes with basic Google apps, there are no extra, bloatware programs forced on us, so we can comfortably just install the programs that do the job for us. We have a full Google compatible system, so you can get the basic apps updated instantly from the Google Play store after an email sign-up.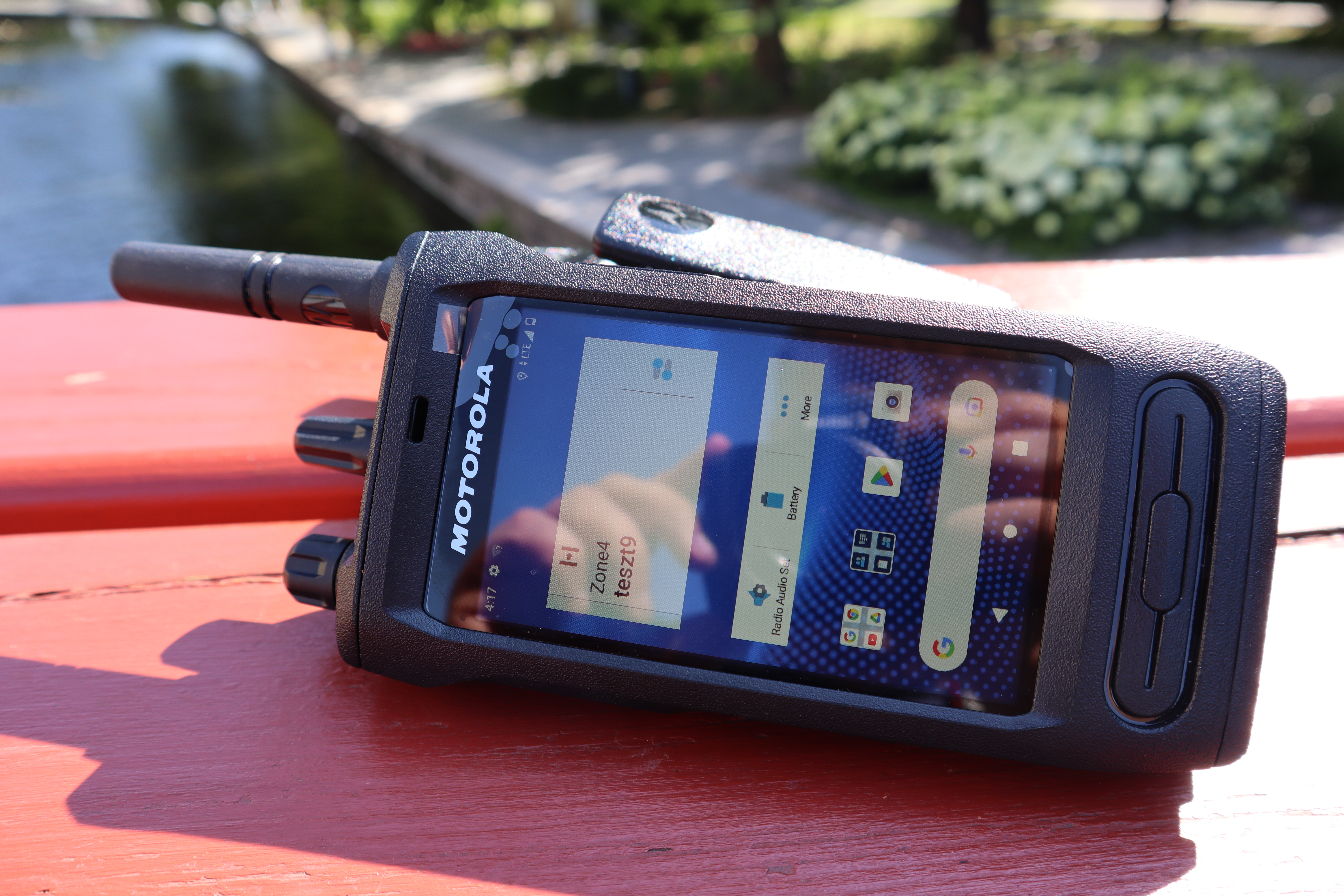 Transceiver function: analogue and DMR modes
In addition to data communication, photography, video and other tasks that can be done on Android, the transceiver function is also available in the form of an app on Android. Those who have used the Motorola R7's Android app will be familiar with the ION transceiver app interface. The Motorola ION is equipped with a full-featured transceiver with 1-4W transmit power in analogue and DMR mode, so it canfully satisfy the needs of any professional using the transceiver. The ION is fully compatible with existing MOTOTRBO and other Tier III DMR systems.
ION transceiver module technical data:
Digital and Analogue mode 
Conventional, Dual Capacity Direct Mode, IP Site Connect, Capacity Plus (Single- and Multi-Site), Capacity Max compatibility 
Frequency range: UHF (400 -527 MHz) (VHF model coming soon) 
Channel number: 1000 
Number of zones: 250
Wit the ION,we effectively get a professional two-way radio. It is important to note, because similar combines phone + transceiver devices, although being of similar design, only allow minimal functions to be used with the radio module inside. 
On the transceiver, you can select pre-programmed channels and functions, or turn them on and off. In addition to the traditional transceiver functions, Wave PTX - Motorola's own network transceiver system - can also be integrated into the program. This can be very useful if you have more than one system operated by your company, as the ION can also replace a Wave radio. Also, depending on the task, you can connect the PTT button of the Wave app running in the background to a physical PTT button.
Programming
It is important to note that detailed transceiver configuration and channel settings can all be done remotely on the ION. The transceiver is in constant contact with the Motorola system via its Internet connection and from Radio Central Program authorized users can access the CPS programming interface of the unit from a PC This is particularly beneficial for users where it is difficult to connect the device to a PC to modify a setting.  
The Radio Central Program also plays an important role in thevery first, initial start-up of the radio, since the radio receiver function is not active on the device when you start it up for the first time.  A full reset is required to register and download the start-up program, which must be initiated from the Radio Central Program and not from the device. As soon as this arrives on the radio and it is restarted, it can connect to the special hotspot connection and the activation update will start. Once the update has been downloaded, all you have to do is wait for a reboot and your transmitter is active. Out of the box, new radios only have the factory test memory content in the zone list of the transceiver app, so we have to configure the radio for our own needs.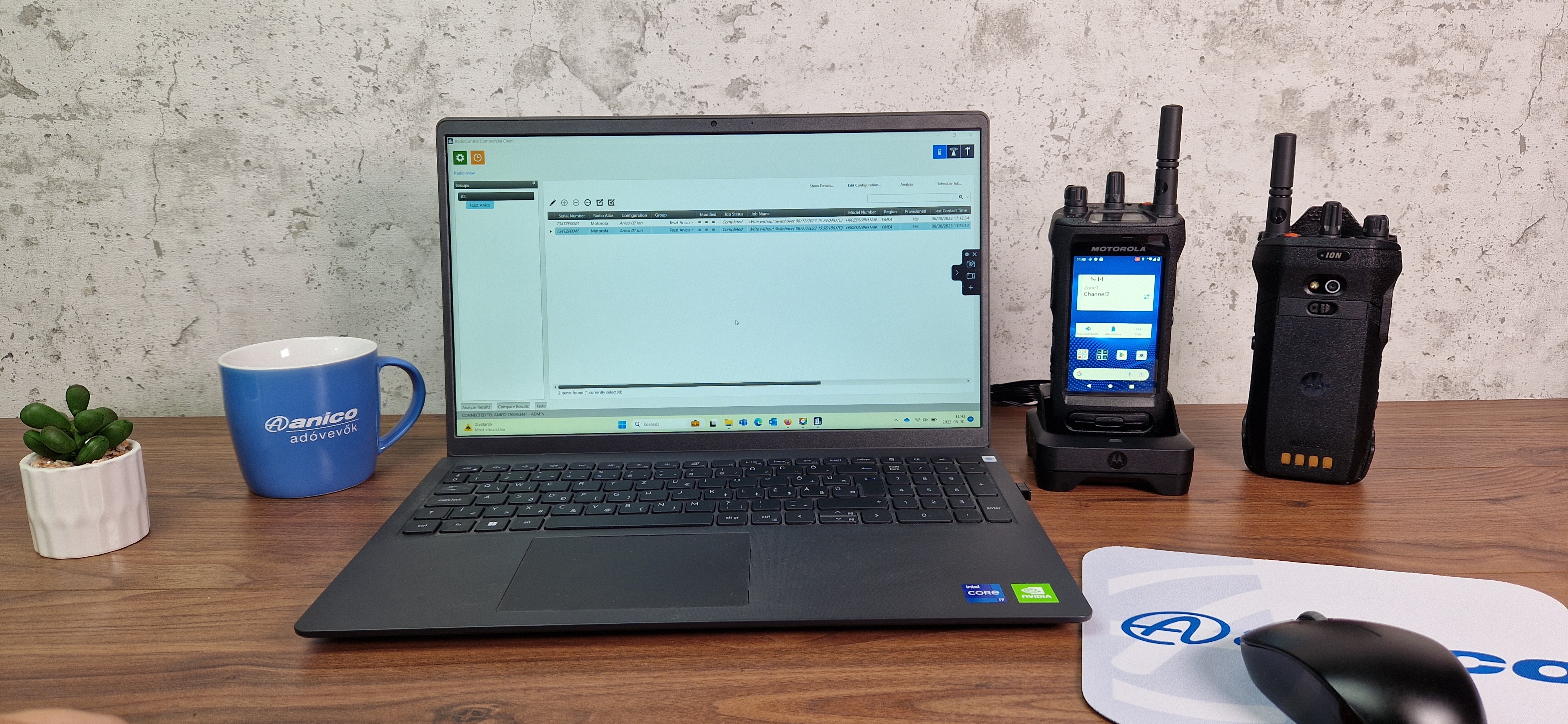 3-in-1 smart device
Who can benefit from this very well thought-out Swiss Army knife? In any case, it could be really successful where either a Motorola DMR or POC network radio system is already in operation, or where a major upgrade is being considered. Of course, this is not to say that the ION cannot work with other DMR or POC systems, it's only that it is the Motorola ecosystem and environment that really brings the best out of it.  
You can replace several devices with a single ION. It is true that it is a long-term investment in terms of price, but its capabilities and practicality can save time and money in those jobs where such a device can be really useful.
By: Róbert Ferenczi