Description
The Motorola XT600d Series is ideal for organisations who understand that instant communication can be a competitive advantage. Designed to work at the speed of business, XT600d radios are packed with features that keep your team connected and productive. Call a single person, a group, or the entire organisation at once. It's easy to streamline your communications with enhanced digital calling. Remotely monitor your radios, send call alerts, and even disable radios if they're lost. Remote management makes it easy. The XT600d Series also comes with a full keypad for text messaging, the ability to record and play back conversations, and crystal clear digital audio for flawless communication.
The XT600d Series radios include:
XT660d: Analogue and digital PMR446
XT665d: Analogue and digital PMR446, plus LPD433
Motorola XT660d Features:
Target your conversations
Whether your personnel are in the warehouse, on the shop floor, or in an office, you can target only the individuals or groups you need.
Monitor and manage personnel
Monitoring remote personnel is critical if you want them to be safe and successful. The XT600d Series gives you the capabilities you need to stay in control from a distance. You can activate the microphone and transmitter on a target radio to check on the status of your personnel. Or remotely disable a radio if it's lost or stolen. And if the radio is found, you can re-enable it so it can be reused.
Better with text
With support for up to 128 characters per message, you have enough room to get your point across. Need to reply quickly? Choose from up to 50 pre-programmable messages, such as "can't talk now" or "message received."
Capture conversations
Being able to have a recorded conversation is useful for everything from training purposes to audit protection. That's why the XT600d Series provides audio recording and playback capabilities.
Loud and clear audio
A noisy environment is no excuse for poor communication. With 1.5W audio output, the XT600d Series makes sure that conversations come in loud and clear — even across a wide area.
Works with others
Use the XT600d Series in analogue mode with other comparable PMR446 radios, so you don't have to upgrade the entire fleet at once.
Information at a glance
View incoming text messages, your contact list, caller ID, battery life, and signal strength on the brilliant LCD display.
Motorola XT660d Features: 
Analogue – PMR446 (446.0 – 446.2 MHz1), Digital – 446.1 – 446.2 MHz, 446.0 – 446.1 MHz2

1.5W Audio Output

128 Channels (4 zones X 32 channels)

Channel Bandwidth: Digital – 6.25 kHz, Analogue – 12.5 kHz (XT660d), 12.5/25 kHz (XT665d)

Dimensions: 116 x 57 x 38mm

Weight: 262g

Average Battery Life – Standard Li-Ion Battery up to 20 hours

IP55

Full keypad & LCD display

Send text messages, create up to 50 pre-programmed messages, support for 126 characters

Record & playback audio with dedicated record button – record Rx/Tx transmission of digital channel, up to 15 mins

Contact list (up to 512 contacts), up to 16 teams

Call a single person or a group

Pre-programme calls to a quick access button

Remote Personnel Monitoring – user master radio to ping unresponsive radios, discreetly activate radio mics from a distance to monitor workers, disable a radio is it goes missing & re-enable on the spot once found

Mixed radio fleet capability & suitable for digital migration
Motorola XT660d box contains: 
Portable Motorola XT660D Radio with Display & Antenna

2100 mAh Battery

Carry Holster

Optional Charger (EU and UK)

Safety Manual

Quick Start Guide
* The range is only informative data which is accessible in optimal condition (for example standing on hills or high building in open field). In different terrains it may significantly decrease (between valleys, in forest, between and inside buildings)
Notes: This license free radio is sold with factory default programming. If you need to customize your radio (CTCSS/DCS codes per channels, battery save mode, VOX operation, VOX delay, user defined keys, monitor, scan function, transmit time out) you have to find one of the authorized Motorola partner in your country or buy a programming cable (HKKN4027) with software from us. Cost of programming is different by partners. The other option is to ask us to contact you for programming before shipping. Anico Kft. 4400 Nyíregyháza, Debreceni út 125. +36-42-507-620 mail@anico.hu Budapest office: 1107 Budapest Ceglédi út 1-3. +36-1-339-0190 anicobp@anico.hu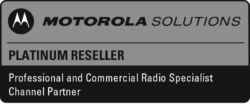 Similar products
Other products you may like