Around 500 scouts did volunteer work in Budapest helping the logistics of the International Eucharistic Congress (IEC) and Pope Francis' Holy Mass. Their work was coordinated and aided by the Anico eChat internet-based transceiver system (eChat PoC transceivers with headsets and the eChat Control and Dispatch System).
 
After the IEC, Gergő Kriszbacher (G.K.), a member of the Christian Worker Youth Scout Troop 217 from Pécs, known in scout circles as BicskáS, and Deputy Commander of the Scouts-IEC contingent, was asked by the staff of Cserkész Magazin (Scouting Magazine) how the communication between the scouts at the event was made to work so smoothly.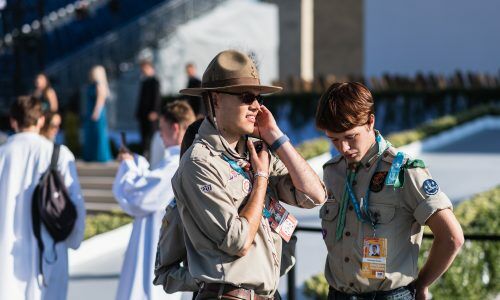 S.M.: In a group of around 500 Scout volunteers at the Congress it must have been a challenge to make all the information flow properly. How did you communicate within the troop? What methods and tools did you choose?
G.K.: We tried to use several solutions so that we were not dependent on any one single system. Information containing a lot of details was sent out in the form of e-mails on various mailing lists (everyone, troop leaders, staff, etc.). In addition, there was a Messenger group for patrol leaders and troop leaders where they received reminders.
However, the most frequently used communication platform was the radio. We knew from previous experience that radios are essential if we want to get the information to the leaders immediately. Due to the urban environment, however, this time we could not use "traditional" radios, therefore we ended up using an internet-based system throughout the IEC.
S.M.: What was the process? How did you get to this special radio system that you used?
G.K.: It was known that we would be operating in several locations in the capital at the same time and we wanted to keep in touch with everyone. We started looking around to see what other solutions were available. Finally, Attila Szántó, the head of the hatchet scouts, came across the internet-based radios and the company that rents them out. Several of us looked into how the system worked and decided that this was exactly what we needed.
S.M.: What were the features of the system? How and what did you use the radios for?
G.K.: These radios are actually smartphones with a very small monochrome display. Because of this, you can, for example, make a private call between two radios or share their location. Also, we could create ad hoc groups, which made organise discussions much easier. Apart from that, they were used the same way as a traditional two-way radios, you pressed the button, spoke, then released the button and waited for a response.
S.M.: Why was it better than "traditional" walkie-talkies?
G.K.: In addition to the above, which are very useful extra features, I would highlight the range. As they are quasi mobile phones, we didn't have to deal with obstacles or distance between two radios. With Endre, we had to go to Kossuth tér (Kossuth square) for a meeting while the contingent was serving at Hungexpo, and we could co-operate with each other without any problems.
S.M.: Can you tell us a specific story or a typical case where you benefited a lot from this radio system?
G.K.: All the time, actually. I can think of many cases where without the radios we would not have been able to serve - or not in the same way. At Hungexpo we assisted pilgrims entering the canteen. All of this would have been impractical if we had not been able to communicate quickly and efficiently. The main organiser of the Congress there highlighted how pleased he was that we had thought specifically about our internal communications, and that this made us a pleasure to work with. In the same way, serving at the three Masses depended a lot on the immediate distribution of information, as there were times when something changed 5 minutes before the Mass started.
"Basically, without the radios we would not have been so efficient and organised, and we were completely satisfied with them."
To read the full interview in Hungarian Language in Scouting Magazine click here. 
Thanks to the Hungarian Scout Association, especially Attila Szántó for sharing their experiences with our eChat two-way radios and for their support in publishing his article.
________________________________________________________________________________________________________________
Do you need a radio communication system for a temporary period, maybe even just for a few days?
You don't want to use transceivers for a long time, so buying them would be an unnecessary investment?
Have oá thought about renting a radio but haven't found a device with unlimited range?
Get to know the eChat radio rental scheme!