PS-30SWII SWITCHING POWER SUPPLY 30A
Price:

102.09 EUR

(85.08 EUR + VAT)

Model:

PS-30SWII

Availability:

On stock

Average Rating:
PS30SWII switching power supply provides 13.8 VDC at 25 amps continuous, 30 amps surge. The output voltage is adjustable from 9 to 15 VDC. It features a front panel lighter plug for low current (10A) accessories. There are also red and black snap terminals on the front panel for very low power accessories (3A). Red and black terminals, and a quiet fan on are the rear panel (30A). The backlit panel meter may be selected to display voltage or current. There is a Noise Off-Set Control that can be adjusted to eliminate pulse noise from the power supply. It has short-circuit protection, over-current protection and over-temperature protection, plus a user replaceable fuse (8A). Output voltage regulation is less than 2% variance. Input is 110 VAC. 2.3 kg.
PS30SWII switching power supply main features:
30 Amps MAX, 25 Amps continuous at 13.8 V DC.

Front panel adjustable voltage(4-16Vdc)

Light weight, only 2.3kgs

Compact, only 190 W x 70 H x 215 L mm.

Overload, Short-circuit protection

Cooling Fan 

Input Voltage fixed: AC input voltage only in-230Vac 50Hz
PS30SWII switching power supply f

unction:
V/A one meter

Power switch

Output voltage adjust knob

Lighter socket
PS30SWII switching power supply s

pecification:
Input Voltage: 230VAC ±10﹪50Hz

Output voltage: 13.8V or 9-15V variable

Output voltage regulation: < 2﹪

Protection: Overload, Short-circuit

Output current: 25A continue,30A Max.

Ripple/Noise: < 80mVp-p

Fuse: F5A250V

Display indicator: Single volt/current meter

Dimensions: 190(W)×70(H)×215(L)mm

Weight: 2.3 Kg
Farkas Antal
|
22/02/2019
Tökéletesen működik.
László Szekeres
|
22/01/2019
HA3JD János
|
01/01/2019
Miklós HA5CWF
|
29/11/2017
A terméket a szakszerű leírás alapján kiválasztottam. Megrendeltem, azonnal kaptam visszajelzést. A rendelést követő napon 12 óra körül már mehettem is átvenni.
A kiszolgálás gyors és szakszerű volt. A tápegységgel meg vagyok elégedve. Tetszik a masszív esztétikus ház a 3 darab csatlakozási lehetőség. Praktikusabb lenne ha a
műszer háttér világítása kikapcsolható lenne. Még 10 A -nél nagyobb terheléssel nem használtam. Ajánlani tudom másoknak is a terméket. Az ára a hasonló paraméterű
berendezésekkel közel azonos. Úgy érzem fogok még vásárolni az Anico Kft. által forgalmazott termékekből.


Ponácz György
|
08/11/2017
Mindkét tápegység kiválóan működik.A HA1DCX hívójelü Qth.-on az egyik a Yaesu FTDX-1200 rh rádiót,a másik az Icom IC-260E rádiómat,és 40Wattos teljesítményerősítőt,valamint az SS6900 10 méteres rádiót,és 100 W teljesítményerősítőt táplálja.
hg5ofb Béla
|
05/06/2017
A megrendelést követő másnapi kiszállítás... Gyors, pontos ügyintézés,készséges telefonos felvilágosítás.
" Nagy áramú " tesztelésre még nem került sor, rövid ideig tartó 12 amperes terhelés után tartós 1-8 amperes rx-tx
üzemben zajmentes,megnyugtató riportokat kaptam!
Masszív,jól megtervezett,esztétikus berendezés.Műszeres kijelzője a besorolás szerinti 2.5 osztálypontosságnak
megfelelően elfogadhatóan méri az választó kapcsoló által kijelölt pillanatnyi áramfelvételt,illetve a tartós kimeneti feszültséget. A műszer megvilágítása talán annyira nem megnyerő, /nagyon lokális,pontszerű/ és hiányolom, hogy nem szabályozható a fényerő. De ezektől eltekintve,... ezen tapasztalatokkal újra megvásárolnám.
Ventilátora / ha éppen bekapcsol / halk üzemű,nem zavaró.
Az ára...?!... nem érdemes külföldről megrendelni...itthon kell az ANICO-tól megvásárolni!
Köszönöm...
Urkon Ede/HA5BWW
|
31/05/2017
Használatbavétel után 5 perccel beleszerettem!
Sebők Dezső
|
26/08/2016
Köszönöm a gyors válaszokat a kérdésemre és a kiszolgálást. A készülékkel meg vagyok elégedve.
A kifogásom a világítás, nem lehet csökkenteni a fény erejét, de ez nem befolyásolja a jó működést.
Tisztelettel : HA3SD Dezső
YO3GUU
|
11/07/2016
Jol néz ki mint konstrukcio. Maximum amennyire leterheltem 15 A . Kitünően viselkedett, a hütöventilátor egyenlöre zajtalanul müködik.
Jo dolog az előlapon a max. 3 A -es kijövetel es a szivargyújtó hely.
Kiszolgálás kifogástalan és gyors. Csak igy tovabb Anico.ro.
Istvan
|
31/10/2015
Rendeles utan rogtoni visszajelzes, majd napokon belul erkezett. Teszteltem 24 orat, bar terheles nelkul, majd terheltem 16 A-ig rovidebb hoszabb ideig. A muszer lampa jobb oldali vilagitasa itt ott kikapcsol, ez nem nagyon megnyugtato, bar robusztus, szep kivitelezesu a keszulek. Valojaban a noise offset-re nincs szukseg, sehol a rovidhullamu savban nem tapasztaltam zajt amit a tapegyseg generalt volna. Vegul is meg vagyok vele elegedve.
Tóth Zoltán
|
21/09/2015
Ami tetszik: Jól néz ki. Nálam ez is számít. Masszív ház, nagy hűtőfelülettel. Eddig kb. 10A volt a legnagyobb terhelés, minden probléma nélkül. A voltage adjust gombnak 13,8V-nál van egy kis reteszelése. Ami nem tetszik: A műszer vílágítása, a két oldali LED-el elég béna. Lehetne kicsit olcsóbb.

Juraj, om3wdb
|
06/07/2015
S výrobkom som spokojný. Test 24-hodín 3. subregionálny závod.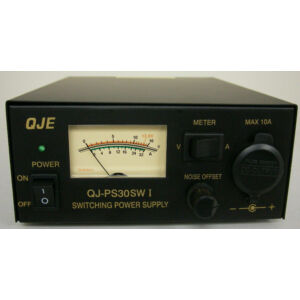 Other products you may like