In 1991 four amateur radio operators on holiday in Turkey conceived an idea: to establish a company in Hungary called Anico to serve customers - mainly taxi drivers at the time – with need for wireless communication equipment. Many people don't know that the ANICO is is an acronym made up of the words Antenna, Information and COmmunication.
Thanks to our success over the past 30 years, our product portfolio, number of customers, turnover and staff grow almost every year,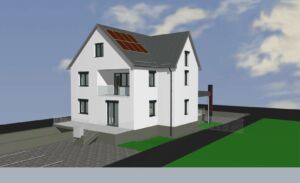 and we have continued to expand in areas where the lack of human resources has been a barrier to growth. This expansion has made it necessary to build new headquarters in Nyíregyháza - Hungary, where our employees can work in a much larger, more modern and state-of-the-art building. In our new warehouse we will be able to store and move our stock in a way that will allow us to serve our customers faster and easier.
The 2021 GINOP PLUS-1.2.1-21-2021-01986 grant has provided the funds and the opportunity to carry out property development and  celebrate our 30th birthday in a brand new office. With the nearly 154 million HUF awarded from the tender, we will - among other things – realise the buildings shown in the visual plan. We  are also to build a new 189 m2 warehouse behind the main building. The plans also include the construction of kerbing, road, pavement, car park and a fence, the nstallation of security systems, barrier system, access control system, VOIP telephony  system, new office furniture and equipment. Renewable energy technologies will include solar panels and heat pumps.
We will also use the EU funding, which is part of the Széchenyi Plan Plus programme, to purchase equipment and train our employees, in addition to property improvements and investment in the transition to renewable energy.
The development will bring our company up to the EU level of small and medium sized companies, improve the efficiency of our production processes and reduce our operating costs. Anico will be able to maintain jobs and create more employment opportunities in an ever changing business environment.
The opening of the new headquarters in Nyíregyháza is scheduled for this autumn, where we cordially invite all our customers to celebrate our 30th birthday together. We will announce the exact date of the opening later this year, until then, please  keep an eye on our Facebook page and our Newsletters!