Vertex Standard VX-459 UHF HANDHELD RADIO
Price:

320.12 EUR

(266.77 EUR + VAT)
Vertex Standard VX-459 UHF HANDHELD RADIO. The industrial grade VX-450 Series maximises worker uptime with expanded safety applications and convenient built-in features designed for heavy duty use.
Monitor Worker Safety
As with all Vertex Standard radios, the VX-450 series includes built-in Emergency and Lone Worker alerts. Emergency notification is user-initiated with a press of a button for the radio to switch to a designated channel and send an alert for help. Lone Worker
mode is a built-in timer that requires the user to reset at a predetermined interval. If not reset, the radio automatically switches to Emergency mode to alert help.
When constant contact is required at all times, Vertex Standard's exclusive Auto-Range Transpond System (ARTS™) is included to inform the user that other ARTS™- equipped radios are within communication range.

No two job sites are alike and the optional Man Down function (with DVS-9 unit) is programmable to monitor a variety of worker timed safety scenarios vertically and horizontally as well as worker degree of motion. Adjusting the settings of the 3-axis 
sensor adapts the radio to each distinct work environment to monitor movement.

Solid Build for Extreme Environments
The VX-450 Series withstands job site abuse meeting military standards for ruggedness and meets the IP57 ingress protection standard where water does not harm the radio when submersed to a depth of 1 metre for up to 30 minutes.

Audio and Voice Responsiveness
Features 700 mW loud audio output ideal for noisy work environments.

Includes Channel Announcement which loudly speaks the channel description to simplify changing channels when focused on other tasks simultaneously.

Features Voice Activation (VOX) when used with MH-81A4B headset that enables users to transmit voice without pressing the Push To Talk button for hands-free operation.

Record and store up to 120 seconds of voice messages using the optional DVS-8 Voice Storage unit.

Built-in Selective Signaling Modes for Greater Flexibility
Includes MDC-1200® encode/decode along with DTMF, 2-tone and 5-tone encode/ decode providing selective radio calling and efficiency in supporting a variety of discrete communications needs.

Large Group Communications Made Easy to Manage
Both the VX-459 and VX-454 radios have a massive 512-channel capacity and 32 groups to easily manage a variety of calls at the most complex job site or plant operation.

The VX-459 also includes Direct Channel Entry to punch in the channel desired from the keypad for fast navigation.

Additional Features
• Nine programmable keys (VX-459)
• Seven programmable keys (VX-454)
• Three programmable keys (VX-451)
• 8-Character alphanumeric display (VX-454/459)
• Voice inversion encryption
• Manual on/off encryption activation
• RX/TX Battery power save
• DTMF ANI
• DTMF Speed dial
• DTMF Paging
• CTCSS / DCS Encode and Decode
• Stun/kill/revive (5-tone)
• Compander
• Clear voice
• Whisper
• Minimum volume control
• Manual squelch adjustment
• BCLO, BTLO and TOT Functions
• Programmable LED color alert
• Priority scan
• Dual Watch scan
• Follow-me scan
• Talk Around scan
• Radio-to-radio cloning
• Audible channel announcement (customisable)



General Specification



Frequency Range 

VHF: 134 - 174MHz

UHF 1: 400-470 MHz

UHF 2: 450-520 MHz

Number of Channels and Groups 

512 / 32 Groups (VX-459, VX-454)

32 / 2 Groups (VX-451)

Power Supply Voltage 

7.5 V DC ± 20%

Channel Spacing 

12.5 / 20 / 25 kHz

PLL Steps 

1.25 / 2.5 / 5 / 6.25 kHz 5 / 6.25 kHz

Battery Life (5-5-90 duty)



2400 mAh FNB-V113LI



VHF: 18.5 hours (w/saver) / 16 hours

UHF: 18 hours (w/saver) / 15.6 hours



1170 mAh FNB-V112LI



VHF: 9.5 hours (w/saver) / 8.6 hours

UHF: 9.2 hours (w/saver) / 8.3 hours

IP Rating 

IP 57

Operating Temperature Range 

-30º C to +60º C (-22º F to +140º F)

Frequency Stability 

±2.5 ppm

RF Input-Output Impedance 

50 Ohms

Dimension (H x W x D) 

109 x 58.5 x 34 mm (4.29 x 2.3 x 1.34 inches) (w/FNB-V112LI)

109 x 58.5 x 43 mm (4.29 x 2.3 x 1.69 inches) (w/FNB-V113LI)

Weight (Approx.) 

296 g (10.44 oz) (w/FNB-V112LI, ANT, Belt Clip)

340 g (11.99 oz) (w/FNB-V113LI, ANT, Belt Clip)



Receiver Specification: measured by TIA/EIA-603



Sensitivity 12dB SINAD 

0.25 μV 0.32 μV

Adjacent Channel Selectivity 

70 dB / 65 dB

Hum and Noise 

45 dB / 40 dB

Intermodulation 

70 dB / 65 dB

Spurious and Image Rejection 

70 dB

Audio Output 

700 mW (internal @ 16 Ohms, 5% THD)

500 mW (external @ 4 Ohms, 5% THD)

Transmitter Specification: 

measured by TIA/EIA-603

Output Power 

5 / 2.5 / 1 / 0.25 Watt (selectable by channel)

Modulation 

16K0F3E, 11K0F3E

Maximum Deviation 

± 5.0 kHz / ± 2.5 kHz

Conducted Spurious Emissions 

70 dB below carrier

FM Hum and Noise 

45 dB / 40 dB

Audio Distortion 

< 3 % @1 kHz
There are no reviews for this product.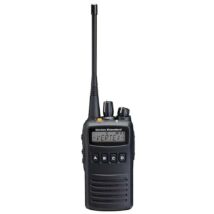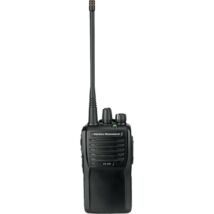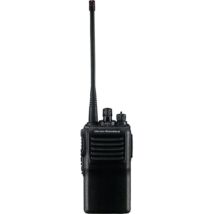 Other products you may like