Rent eChat internet-based transceivers from Anico Ltd.
Do you need a radio communication system for a temporary period, maybe even just for a few days?

You don't want to use transceivers for a long time, so buying them would be an unnecessary investment?

Have you thought about renting a radio but haven't found a device with unlimited range?
Get to know the eChat radio rental scheme!
eChat PoC technology internet-based transceivers are connected to central eChat servers hosted by our company via mobile internet using the SIM card inside the transceiver or via WiFi connection on  the premises. This allows national and even international coverage without the need to install and operate radios that  used licensed and paid-for frequencies, or to own repeaters.
If you do not want to buy transceivers, you can rent these radio communication devices with unlimited range for just a few days as well as for longer periods. Our company, Anico Ltd. will provide you with the internet-based eChat transceivers, the corresponding SIM cards and, if required, the eChat dispatcher console programme for rent. All our eChat devices have a menu system that is available in English as well as Hungarian.
For long-term rentals, we also offer the option to buy the device at the end of the rental period for a residual value, so you can keep the device!
Radio rental for security companies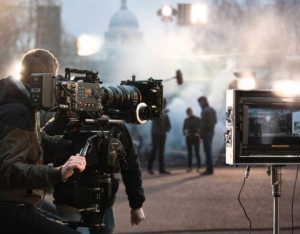 Radio hire for film or photoshoots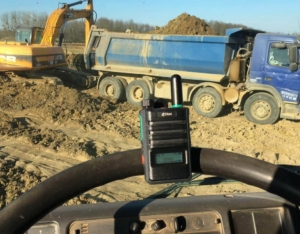 Radio rental tailored to individual needs
The benefits of eChat radio rental:
    You can rent radios/radio sets for days, weeks or months, and  you only pay for as many sets as you need.

    The fees of radio rental are fully deductible in your business.

    There are no additional charges (basic and per minute), you can talk as much as you want!

    The amortization costs of the rental radio is not charged to your company.

    Flexible planning.

    There is no need for a separate radio licence and or to pay frequency usage fees.
Other services for eChat radio rental:
For a fee, we deliver the rental radios to the desired location

We can provide technical supervision for the whole duration of the radio rental

It is also possible to rent eChat compatible dispatching and management software in English or Hungarian, and upon request, we can demonstrate its operation, plus we have also prepared a video series to help you master its operation
Features of the eChat E350  rental transceiver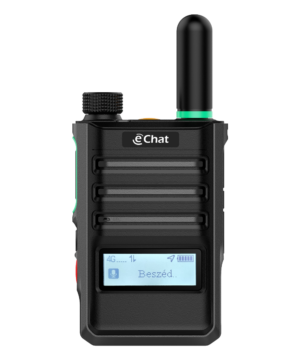 The eChat E350 is an entry-level PoC transceiver, also known as an Internet-based transceiver, which provides communication over an almost unlimited range. Its small size and cost-efficient price make it a very popular choice among transceivers in its category. It is water and dust resistant (IP54), making it ideal for use in industrial and wet environments. There are no distracting buttons on the main panel, but a narrow LCD display makes it easy to navigate the simple to use menu. Its 4000 mAh battery can handle longer working days.
eChat E350 PoC IP broadband transceivers parameters:
| | |
| --- | --- |
| Network | Wifi, 2G/3G/4G, public LTE (TDD:B38/B39/B40/B41 FDD:B1/B3/B5/B7/B8/B20/B28) (Support LTE FDD:B1/B2/B3/B4/B5/B7/B8/B20/B28, Support LTE TDD:B38/B39/B40/B41, Support WCDMA:B1/B8, Support GSM:B3/B8) |
| Size ( H×W×D ) | 88 × 54.5 × 29.8mm (Without Antenna) |
| Weight | About 200g (With Antenna and Battery) |
| Display | 1 inch B&W LCD, 128 × 48 |
| Keyboard | PTT, Fn, Power, SOS, Knob |
| Battery | 14.8Wh (4000mAh, 3.7V) |
| Interface | Type - C USB (USB2.0 / Headphone) |
| OS | Deeply Customized OS Based On Android 7.0 |
| Chipset | Quad A53 Processor |
| Memory (RAM+ROM) | 512M + 4GB (optional 1G + 8G) |
| Bluetooth | included |
| WLAN | 802.11b/g/n, 2.4GHz |
| Location | GPS / AGPS |
Not match for this search criteria from products