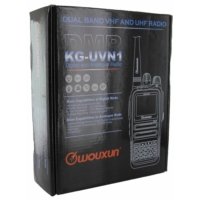 This radio appeared in the Wouxun product lineup early 2019, In Hungary however,  It only had its debut in March 2020.
With my experience gathered over the years, I am actually happy that this time I am not reviewing a brand new device. Why? Usually, when new devices are put to market, despite all the extensive testing, the firmware always has some room for polishing. A one year old radio on the other hand usually has a firmware version already updated and bugfixed, and you can do without hunting for patches, firmware update or cope with menus full of irritating small bugs. I believe, this one year has been worth the wait.
But let's see what Wouxun has cooked for us.
EXTERIOR
The box surprises us with a lot of accessories, we even find a data cable and an antenna plug adapter. The package is well stuffed.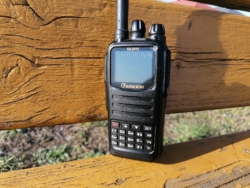 The device is not small, but it is not oversize either. It feels well in the hand, but true, it has some weight. This radio is probably not the best accessory to match your swimming trunk this summer season, but those who want a smaller and sexier radio with DMR functions will have to keep saving up.
We get a nice big colour display, and the headset socket is protected by a sealed plastic cover secured by a crew. Big thumbs up! We will no longer tear off the dust protecting plug, the worst that can happen is that we lose it – but let's admit, that is easier to take care of. More protection is always better.
The next big thumbs up is due to the analogue volume control. It is not just setting a digital value, we can set the volume continuously by turning a knob like on an analogue device. 
The radio comes with a beefy battery: 2600 mAh. (Normally radios come with 1800-2200 mAh batteries.) This means extended usage time: more capacity, more talk, or even more just wise silent listening.
Charging adapter is a surprise though. The DC plug differs from types we are used to, and it is way thinner. We will surely not mistake it for another radio's charger. But we will have a hard time trying to find a suitable charger if the original is not at hand.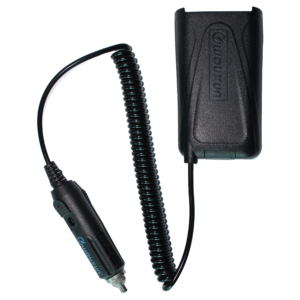 And once we are talking about powering the radio...  Although it is an optional accessory, but the radio can be used with an eliminator. Why is this useful?  Some manufacturers do not provide eliminators for their radios, especially in the lower price categories. But many DMR users would like to use the same handheld transceiver at home and in the car. And when used in a car, it would be especially important to save the radio's internal battery. 
 
INTERIOR
As an upgrade from the predecessor model, this transceiver now also works on VHF, therefore this radio can be used on both bands, in analogue FM as well as DMR modes. (136-174 MHz, 400-480 MHz, (FM receive) 65-108 MHz)
Output power: VHF: 1-5W, UHF: 1-4W.
DMR Vocoder Type: AMBRE + 2TM
Extra functions are VFO modes and voice recording in DMR mode; for this latter function, the radio is equipped with memory enough for storing 8 hours of audio.
Once we speak of memory, we can store up to 1024 TX contacts and have capacity for storing up to 3072 memories.  
We also have an FM broadcast receiver and remote control through DTMF (DTMF KILL).
 
FIRST IMPRESSIONS, USABILITY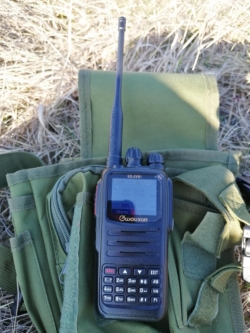 Upon taking the radio in hand and after a little minimal programming, I have to admit, I like it. I did not experience any of the usual initial bugs of the new radios I had tried previously. Even the factory default mapping of function keys is logical. Of course we can customise almost every aspect of the operation of this transceiver. The speaker and the microphone also deliver pleasant audio.
The display presents us with VFO A and VFO B. There is dual watch, but of course, the VFOs are not independent receivers that are active simultaneously. Programming without a computer is possible, albeit limited, we can not save, but we can overwrite existing memory contents.
It is also possible to enable free VFO tuning. This allows us to set VFO A and B to any frequency in either analogue or DMR mode with associated necessary parameters. In analogue mode we can set CTCSS, DCS and SHIFT, whereas in DMR we can set Color Code, RX Group, Slot, etc.
In DMR mode, we certainly have the option to make group calls or initiate direct calls, Messaging function is also available. As I have mentioned earlier, voice recording is also supported in DMR with a variety of recording modes.
 
Programming from PC
The box comes with a data cable, therefore upon opening the package, we can immediately start programming the radio. It is important to note that the data cable is not compatible with the widespread Kenwood-type programming cable.
You can download the software here: http://wouxun.com/download.aspx?flid=1132
Programming DMR requires some understanding of the system, but it isn't too dificult. 
But, it being DMR, there are a very high number of functions, tso there are a lot of settings to go through in the software.
Let me highlight a few things that are important to me:
Scan function works. You needn't be a magician, you can add a channel to the scanning list during programming, and after activating scan from the menu or by pressing the function button, it will start sweeping.
Squelch (SQL) has also changed: you can set squelch level in 9 steps in analogue mode.
SUMMARY
After 3 weeks of using the Wouxun KG-UVN1, I can say that it is a very usable radio. Reception sensitivity is stable and it even behaved well on a hi gain external antenna (in analogue mode, it was perhaos better than the FT4XE).
As negatives, I can probably mention the non-standard charging plug and that the radio does not feature a GPS receiver. If you need to transmit location info, you need to elsewhere.
Despite these minor negatives, this is a well-designed, quality radio, and whether you need to supplement an existing analogue radio or you want to replace an analogue radio with one that doubles as both an analogue and a DMR transceiver, KG-UVN1 can be a very good choice.