New amateur mobile radio: introducing the Yaesu FT-818ND!
31/05/2018 04:09:00 PM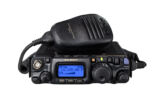 The new 
Yaesu FT-818ND amateur mobile transceiver
 incorporates all the many basic and attractive features of the ever-popular Yaesu FT-817ND while providing upgrades desired by many existing owners. The Yaesu FT-818ND provides 6W of solid output power with an external DC power source. The supplied Ni-MH battery pack (SBR-32MH) has been upgraded to now provide larger battery capacity - 9.6v/ 1900mAh. The recent launch of several new satellites is a certain indicator that the large global community of satellite enthusiast are going to be very delighted to learn that the FT-818 includes a Built-in TCXO-9 oscillator that gives the 
Yaesu FT-818ND amateur mobile transceiver
 fantastic frequency stability (±0.5ppm).
Designed for use either from an external DC power source or internal batteries, the Yaesu FT-818ND amateur mobile transceiver provides 6 watts of power output from a 13.8-Volt external power supply. When using the SBR-32MH Ni-MH Battery Pack or 8 "AA" Alkaline Cells (not supplied), the FT-818 automatically switches to 2.5 Watts of output power. The multi-function Liquid-Crystal Display includes Blue, Amber, and Violet backlighting, which may be disabled for battery conservation. The display includes bar-graph indication of power output, ALC voltage, SWR, and modulation level. Also include are a number of operating status icons, as well as the function displays for the three operating function keys (A,B, and C).
Among the advanced features of the Yaesu FT-818ND amateur mobile transceiver are many incorporated only in large base-stationtransceivers. These include Dual VFOs; Split-Frequency operation; IF Shift; Clarifier ("R.I.T."); IF Noise Blanker; AGC Fast/Slow/Auto/Off selection; RF Gain and Squelch control; IPO (Intercept Point Optimization) and a receiver front-end Attenuator; AM Aircraft reception; AM and FM Broadcast reception; VOX; Built-in Electronic Keyer; Adjustable CW Pitch; Automatic FM Repeater Shift (ARS); Built-in CTCSS Encoder/Decoders; ARTS™ (Auto-Range Transponder System); Smart Search™ Automatic Memory Loading System; Spectrum Scope; 200 Memories plus Home Channels and Band-limiting Memories; Alpha-Numeric Labeling of Memories; Automatic Power-Off (APO) and Time-Out Timer (TOT) functions; Computer Interface capability; and Cloning capability.
More information about the radio: https://www.anico-hamshop.eu/amator_amateur_amaterske_radio/amator_mobil_radiok_80/yaesu_ft-818nd
Available from the end of June.