Yes, as the title suggests, the Caltta PH600 series has been given extra features and 3 new models have been added. There are now 4 different types of handheld transceivers available for the PH series to meet different needs. Let's see the extras! 
The basic PH600L radio has already been covered in depth in a previous blog article, but let's make a little repetition. 
What are the main features of the PH series? 
1W - 4W transmitter power 

Analog and DMR Tier 1 and 2 standard

IP68 protection and military MIL-STD-810 G standard 

Voice menu function 

Voice encryption

Mandown emergency function

VOX function
Here are the new features
On the back of the extended function PH600 series transceivers, a letter "p" lets the user know that they are not dealing with a normal radio. These radios include GPS and Bluetooth functionality. 
Caltta PH600 series models: 
PH600L - light version, without display and keypad, without Bluetooth and GPs
PH600 - without display and keypad, with Bluetooth and GPS functions
PH660 - with display and without keyboard, with Bluetooth and GPS functions
PH690- with display and keypad, with Bluetooth and GPS functions
Being industrial transmitters, we can activate the GPS function and Bluetooth connection from the CPS program. While the GPS configuration can be set from the CPS program and then nothing else is left for the user to do, the Bluetooth on/off and Bluetooth device search/pairing can be programmed separately on a function key. This way, anyone operating the radio is free to connect a wireless headset, Bluetooth microphone or Bluetooth PTT button. But if you need to connect to a car speakerphone, you can do that easily with the push of the pre-programmed function button.
Let's also look at the other PH transmitters, which now have an LCD display to make it easier to use the radio's extra functions. 
PH660 - with small display
A transmitter that is identical in size to the PH600, but has a colour LCD display that is easy to see in daylight and 6 function keys to easily navigate the radio menu.
The basic technical parameters are identical to those of the PH600. GPS and Bluetooth functions are also standard on this unit, so you don't have to give up the convenience of a wireless headset. And if a dispatcher is monitoring the communication on the repeater, the GPS allows the transceiver to transmit its position continuously.
What we really like is that there's a clock on the transceiver's display, which can be useful in many situations. In addition, the CPS program gives you the freedom to configure the menus displayed on the transceiver and their settings. In other words, if certain functions are not required, they can be switched off and the user does not have access to them. For example: you cannot set the operation of the GPS because this menu has been turned off. 
PH690 - with large display and keypad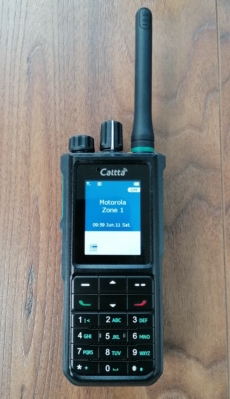 The Caltta PH690 transceiver is bigger than the others because it has a numeric keypad. Even so, its size is comfortable, it is not a huge and heavy device. It's battery and audio accessories are also compatible with the PH600 and PH660 transceivers.
There's GPS and Bluetooth functionality, of course, and even a memory card slot on the back. This is needed for audio recording in DMR mode, which is an optional extra in this unit.
2 options are available, which can be activated by purchasing a license:
- 20 hours of recording in the radio's own memory 
- 200 hours of recording on 4gb micro sd card 
Thanks to the numeric keypad you can now type and send messages to other DMR radios or to the dispatcher. In addition, this device also allows you to edit the programmed memory contents. This allows you to change all the parameters of the content at any time.
Extra Bluetooth accessories
The Bluetooth function is worth discussing in a little more detail, because in addition to the Bluetooth earpiece, there are several audio accessories that can be used with the devices.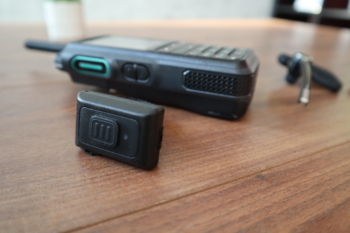 So a normal telephone Bluetooth headset can be programmed with the transceivers. But of course, Callta's range can also provide a convenient headset with PTT button. And if you're looking for a wireless microphone, you can get one from the Anico webshop.
The Telecom Bluetooth microphone for eChat transmitters works perfectly with the Bluetooth versions of the PH series. But to add to the convenience, the Bluetooth (finger) PTT button has also arrived. So you can work in complete comfort. No need to hold the radio in your hand, just press the Bluetooth PTT button on your finger and you're ready to go. It's easier to work, drive, or do any task where it's difficult to work with a handheld transmitter. 
You can also use the Bluetooth PTT button when using a wired headset, so you don't have to press the PTT button on the headset, just press the Bluetooth PTT on your finger. 
We can also encrypt if necessary
Caltta PH devices are ARC4 10 key encryption enabled at the time of purchase. This makes them compatible with similar ARC4 capable Motorola and Hytera or other transceivers. For ​those who want higher encryption levels, an additional benefit is that AS256 encryption can be activated by license in Caltta PH transceivers.
Of the Motorola DP series, only the DP2000 and DP4000 series can handle ARC4 encryption, and AS256 licensing can be requested for the DP4000 series. For other radio encryption compatibility, please consult Anico's technical staff.
Summary
The Caltta PH devices are rugged, small and easy to use devices with a lot of extra features that are especially useful for work.
With these 4 products, the Caltta PH series is very well suited to the simplest and most complex tasks of the industrial user in both analogue and DMR mode. 
And for those who use Motorola DP series but can't wait for the long delivery time, the Caltta PH series can easily be integrated into your fleet.