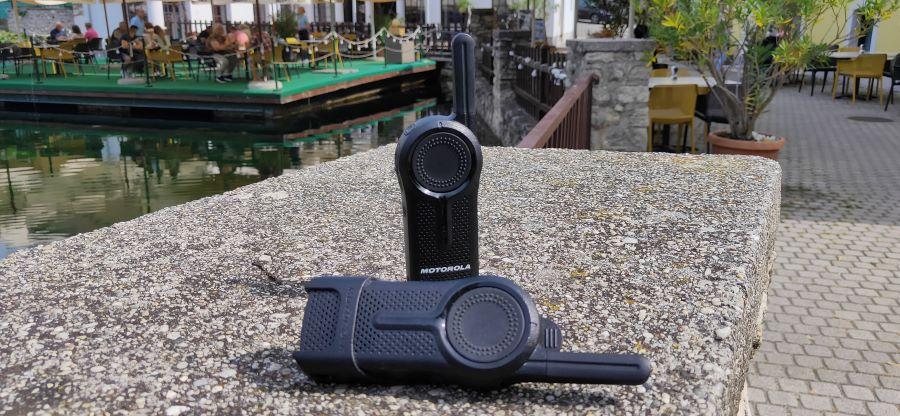 Motorola's recently debuted CLR446 radio - which can be used without a frequency license - is in the industrial category, but it's not here to take over the arena of rugged industrial radios. Instead, it is  intended for business, office, hotel and other uses where you don't need a hefty, shock and everything-proof radio, just easy-to-use features. Because of its light weight and small size, it can be worn around the neck or hung on a belt all day without disturbing your daily work. 
 
Appearance
To the European eye, the CLR may look interesting, but in the US, this design will already be familiar, it can be seen on several models (e.g. Motorola VL50, CLS1110). Compared to its predecessors, however, the omission of a volume knob has definitely improved the look. With its black colour and clean lines, it can be worn comfortably on any smart workwear; it won't attract attention.
The radio housing has antimicrobial coating, making the radio even safer to touch and keep in hand all day.
Compared to the CLK and CLP models, the CLR446 now has an external antenna, which increases its range, but it still does not make the radio obtrusively large.
The PTT button is also not the one we know from the CLR446 transceiver, as it is positioned at the front instead of the usual side-mounted position, almost covering the top of the radio. This makes pressing the PTT button unmistakable, quick and convenient.
By moving the PTT button, the other functional buttons could also be repositioned to the left side of the radio: they are aligned on the side curve and the sides of the transceiver, completely hand-held. Each button has a raised, convex marking, so you can identify which button performs which function, even if you are blindfolded. Hitting the different buttons is easy to get used to after a short period of use and makes it easier to navigate the menu. 

Accessories
Battery, charging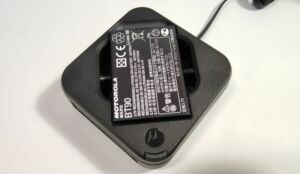 As an industrial or business radio, the power supply is not just a simple AA battery: the CLR446 is equipped with a 1800 mAh Li-lon battery, which can be charged not only in the radio but also in the docking charger. The advantage of this is that if the radio is subjected to intensive use, you can charge the spare battery separately while the radio is in use.
The docking charger is also preferred over plug-in chargers for hobby radios because it is easier to start charging, and by minimising wear and tear on the charging socket, it is also more durable. This  also is an important consideration because these radios are actually designed for all-day use.
As an added bonus, the CLR446 now comes with a group dock charger (12 slots) so you can charge all your radios concurrently.
Audio accessories
There's no shortage of audio accessories either, as the headset jack is a dual jack like the one on XT radios, meaning you can connect multiple handsets, headsets or headsets to the radio. Again, this is an advantage compared to the CLK and CLP models, which have a completely unique headset connector, which limits the choice of audio accessories.
Belt and braces
The CLR446 also comes with a belt buckle frame, which makes it easy to attach the radio to a belt, your clothing or a bag. The frame gives an extra layer of protection to the bottom of the radio and it even allows dock charging, so you don't have to remove the radio from the frame to charge it. When out of the frame, you really get a small, lightweight device that can be hidden in your shirt pocket.
 
Features
To go beyond the looks, let's look at the functions.
In the absence of a display, you can rely on a tiny but bright and colourful status LED and a voice menu. All functions are announced loudly, in English by default.
Using the default, factory settings, 3 menu items are available:
Channel change
Monitor mode
SCAN
The radio has a number of extras which can be activated by programming or customised to your own requirements.
For example, you can select between 1 and 6 available ring tones, which, when activated in the CPS program, will appear as menu item 4 on the radio as a ring tone selection. Another similar feature that can be selected during programming is speech encryption. The order in which these menu items are displayed can also be set.

Expanding and adjusting the basic functions of the CLR446 by programming
When you buy the set, you get a fully working transceiver, but you can also add extra functions by programming. The first programming is free of charge at Anico Kft.
Channel expansion: the CLR446 transceivers are supplied with 8 active channels, but this can be expanded to 16 channels (in some countries PMR channels 9-16 are not yet available, so they are not enabled by default, but where they are allowed, like in Hungary and several other countries, expansion is necessary).
On the CLR446 radio, scrambling can be enabled for any channel. There are 3 different versions available. The scramble function will prevent another device from interpreting the analogue radio transmission. Scrambled speech prevents others on the same channel from understanding what is being said on the radio. So only radios that are programmed the same way can understand each other. This is a very important safety feature for radios that are not frequency-licensed.
The ToT function (transmission time limit) defaults to 60sec. This can be changed to 30-60-120sec or turned off.
Automatic power off APO: if no PTT button is pressed or the radio is not receiving, it will turn itself off after 180 minutes by default. This can be changed to 30, 60 minutes or turned off.
Audio function settings:
Change microphone sensitivity: adjustable to low, medium and high
External audio device, microphone sensitivity: low, medium or high
External device VOX sensitivity: can be turned off, set to low, medium or high
Radio VOX function sensitivity: can be turned off, set to low, medium or high
Voice menu language selection - default: English
Ringtone (ringtone): 6 different versions can be selected.
Roger beep, i.e. end of transmission signal can be switched on or off
Key tone on/off
Voice menu volume: 0-9
Modify channels: 16 PMR446 frequencies can be freely varied even in the basic 8 memory locations.
Of course, you can also select selective noise suppression (squelch) codes for the channels. The CTCSS and DCS codes can be freely combined from the given list in all memory locations, and 6 non-standard individual CTCSS or DCS codes can also be set.
The advantage of using non-standard codes is that they are not included in the base codes of other devices, so that you can select further squelch codes that are difficult to set on most other radios.