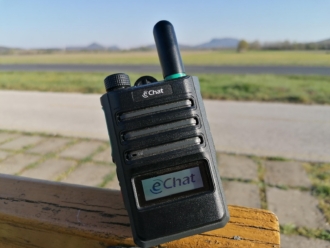 Certain workflows require a properly qualified team. And well-qualified teams need fast and stable communication. In this situation, the best solution is a transceiver. However, which transceivers you choose, makes a difference!
1. Industrial transceivers for industrial applications
Do you already have  transceivers but they are not industrial-grade? A hobby transceiver may be suitable for a job, but it may not even live a year if it is exposed to harsher environmental conditions. eChat transceivers meet the expectations toward industrial equipment. They have, as a minimum, IP54 water and dust resistance, and can be used in dusty and wet, industrial environments. They have high shock resistance and are powered by high-capacity batteries, which ensure reliable operation even in the harshest conditions.

2. Compliance with regulations
In certain areas, the presence of an industrial transceiver meeting the requirements for industrial work and the maximum coverage/range on site are required. During an official inspection, you will have no problem meeting these criteria with your eChat transceivers. Not least, you can save your company a fine.
3. Menu system, customer service and service background
The server park is provided by Anico Kft., so users can enjoy ultra-fast communication, reliability and data protection. We also provide customer support in Hungarian, English, Romanian and Slovak for our products, so we are immediately available in case of any error. We have plenty of service parts on stock, so we can have your service done in a few days!
4. Repeater station in a work area?
There is no need to buy and install expensive repeaters to use eChat transceivers. The eChat system uses PoC technology, whereby the internet-based transmitters are connected to the central eChat server operated by Anico Kft via mobile internet using SIM cards, or the WiFi network within the site.  Therefore that national and even international coverage can be provided without the need of installing and operating radios and repeaters that require a frequency-licence.
5. Operation over a WIFI network
The choice is yours. The eChat transceivers currently available can connect to the Internet in wifi mode, so there may not be a need to use a SIM card and pay for mobile data. Be it an internal network or a temporary security hotspot, your eChat transceivers will work.
6. Do you have a seasonal need for more devices?
Expand your fleet easily! You can buy eChat transceivers from us anytime, but if you don't need them long-term, we also offer periodic rentals. Our company, Anico Kft can provide you with internet-based eChat rental radios and the SIM cards to go with them, and if you have such a need, you can also use the eChat dispatcher program during your rental period. Rented eChat radios can be assigned to your own fleet with just a few clicks, so you can use your own devices together with the rental radios. For long-term rentals, we also give you the option to buy the device at the end of the rental period for a residual value, so you can keep the device!
7. Closed System Security
Unlike analogue transceivers, the eChat system is completely closed. A stranger cannot overhear your communications within the system. There are no shared channels with other users, there is no frequency sharing. Only users who are assigned to your fleet will hear your communication.
8. Bluetooth solutions
Is it uncomfortable using a wired headset or wired microphone at work? eChat transmitters are Bluetooth-enabled, so you can choose between wired and wireless audio accessories.
9. GPS tracking
Perhaps this is where eChat can show its true professionalism. All of our transceivers are equipped with GPS receivers and can send a signal at intervals of up to 5 seconds, allowing you to accurately track your movements on the Dispatcher map. This allows you to track the movements of multiple employees working at different sites.
10. EDR Tetra-like functions for work
Long-distance bridging; instant group communication with people of your choice; picture and text messaging within a closed system; emergency call and trace. All of this is available with eChat under your control, no need to invest in Tetra communication tools.
+ 1 extra: you can also run your own applications on eChat E700s alongside eChat, no need to maintain a separate tablet or smartphone for this purpose!