Description
Caltta PH600 DMR transceivers integrate modern appearance layout, perfect PTT function design and professional manufacturing technology. It makes the user's work easier, the organization's operation more efficient.  
Caltta's DMR system is based on the globally recognised ETSI DMR standard, which is also used by Motorola, Hytera etc. Thus, Caltta PH series DMR transceivers are compatible with Motorola DMR radios, conventional Motorola DMR systems (Motorola DP1400, DP2400, 1 site systems), and other DMR radios that are using ETSI DMR standard. 
Most Caltta models have basic encryption, which can be upgraded to AES256 encryption with licenses. The PH600, PH660, PH690 models include GPS and Bluetooth, while the PH600L is a basic model without GPS and Bluetooth. Caltta's own dispatch software can also be integrated into the system.

Features of Caltta PH600 DMR transceivers:
Professional appearance and light weight 
The height of Caltta PH600 DMR transceiver is only 100mm, which makes it very comfortable to hold in hand. Based on dualcolored shell design and classic layout, Caltta PH600 DMR transceiver looks compact but full of strength. The total weight is less than 290g, and user can carry it easily. 
Friendly user interface and easy to use 
Caltta PH600 DMR transceiver has a classic compact radio layout, so the user can operate it skillfully. With voice prompt, the user can grasp status and informations easily. 
Long battery life makes work flexible 
Equipped with a 2600mAh Li-Ion standard battery, Caltta PH600 DMR transceiver can work for 20 hours under a 5-5-90 duty cycle in DMR conventional mode. A long battery life can help users to focus on their essential job. 
Loud and clear voice quality 
With a 36mm front speaker and high efficiency amplifier, Caltta PH600 DMR transceiver can provide loud and clear voice, which is more than 90dB, and can help user capture every key voice command in the noisy environment. 
Rich features, facilitate daily work 
In addition to basic DMR voice and data services, Caltta PH600 DMR transceiver can also support many optional features. Such as repeater compatibility, dispatch program compatibility, GPS, voice recording, advanced encryption, ECS (Enhanced Conventional System), optional board and so on. 
Solid and reliable quality - IP68 protection
Caltta PH600 DMR transceiver meets IP68 and Mil-STD 810G certifications. It can be used in tough and harsh environments as a professional and reliable communication tool. 
Warranty
With 3 years manufacturer's warranty.
 
Caltta PH600 DMR transceiver function list: 
Voice Services: Private Call, Group Call and All Call, Call Alert, Priority Interrupt, Background Call 
Working Mode: Digital Conventional, Analog Conventional, ECS (Enhanced Conventional System) 
Bluetooth 2.1+EDR/4.0
GPS/BDS Positoning System
Vibration
Real Time Clock
Open API 
Data Services: Text Message, Status Message, Location 
Supplementary Services: Roaming, Programmable Buttons, One Click Upgrade 
Security Protection: Emergency Alarm, Man Down, Lone Worker, Registration Authentication, End-to-End Encryption, Remote Stun/Revive 
 
Caltta PH600 DMR transceiver box includes: 
DMR digital/analog PH600 radio with Bluetooth and GPS, without display and keypad, UHF 400-470MHz or VHF 136-174MHz frequency
antenna 
belt clip 
desktop charger 
power adaptor (EU) 
2600 mAh LI-ION battery 
 
Caltta PH600 DMR transceiver optional accessories: 
Earsets 
Bluetooth headset 
Bluetooth microphone
Bluetooth PTT 
8-way charger 
It is compatible with Motorola DP1400, Motorola DP2400 and Motorola DP4400 transceivers in DMR mode (in DMO and repeater mode also) with proper programming. For more information please contact our technical staff.
Blog posts:
| | |
| --- | --- |
| Caltta PH600 specifications | |
| GENERAL | |
| Digital Protocol | ETSI TS 102 361-1,-2,-3 |
| Frequency | UHF1:400-470MHz or VHF:136-174MHz |
| Channel Capacity | 32 |
| Zone Capacity | 2 |
| Channel Spacing | 12.5kHz/20KHz/25KHz |
| Frequency Stability | +/-0.5ppm |
| Operating Voltage | 7.4V |
| Battery Capacity | 2600mAh |
| Battery Life(5 | 5:90):16 hours (Analog) / 20 hours (Digital) |
| Size (H×W×D) | 100×54.5×36.5mm (Without Antenna) |
| Weight | About 270g |
| Vocoder | AMBE++ |
| Bluetooth | BT2.1+EDR / 4.0 |
| Location | GPS / Glonass |
| Man down / Vibration | Support |
| Encryption Support | SW and HW Encryption (Optional) |
| TRANSMITTER | |
| Power Output | 1W/4W (UHF1) |
| FM Modulation | 12.5KHz:11K0F3E / 20KHz:14K0F3E / 25KHz:16K0F3E |
| RECEIVER | |
| Sensitivity (Analog) | 0.22uV(12dB SINAD) |
| Sensitivity (Digital) | 0.22uV (5% BER) |
| ENVIRONMENTAL | |
| Operating Temperature | -30°C ~ +60°C |
| Storage Temperature | -40°C ~ +85°C |
| ESD | IEC 61000-4-2 (level 4) +/-8kV (Contact) +/-15kV(Air) |
| Dust and Water Resistance | IP68 |
| Reliability | MIL-STD-810 G |
Reviews
There are no reviews for this product.
Similar products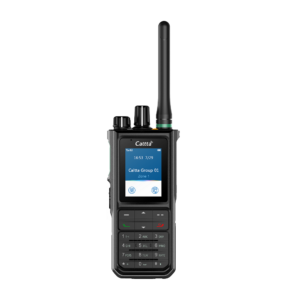 Join our community for interesting content