Where there is a risk of a explosion, there are very strict rules on what equipment can be brought into and used in the area. However, communication is important in all circumstances, especially in an emergency. In such environment even the use of mobile phones is heavily regulated, so the transceivers used for rapid group communication must also comply with the relevant rules.
For this article, we asked a specialist from the WISER Group Hungary for help and information on exactly what regulations need to be met and what to look out for with ATEX (explosion-proof) transceivers. (ATEX is an acronym derived from the French term for explosive atmospheres - atmosphères explosibles.) The WISER Group is responsible for the occupational health and safety of several large companies and factories in Hungary. They have many years of experience and highly trained professional staff; this is why we turned to them for advice on the use of ATEX 2-way radios. 
 
- Under what circumstances is it mandatory to use ATEX devices?
- All potentially explosive atmospheres in which flammable gases, vapours, mists or dusts may mix with air.
Such work areas may include:
Chemical plants
Gas pipelines and gas distribution systems
Airports
Power plants
Ports
Paint factories
Oil refineries
Water treatment plants and storage tanks
Guards
Cement works
Food processing plants
Plastic granulate plants
Wood processing plants
- What laws and regulations govern this issue?
- This area is regulated by Directive 2014/34/EU of the European Parliament and of the Council on the harmonisation of the laws of the Member States relating to equipment and protective systems intended for use in potentially explosive atmospheres (ATEX Directive). This Directive is transposed by each country into its national legislation.
The legislation is quite detailed, but in Hungary, in practical application, e.g. at the start-up of a plant, the need for ATEX classification is specified in the internal rules for the given technological processes. This is approved, and only then is the factory granted an operating licence. After that, the internal rules are always followed.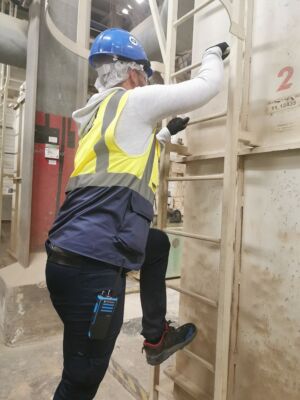 The ATEX classification of a work area is determined by the explosion protection expert on the basis of the size of the room, the layout, the type of equipment and the technological processes, and the area is divided into different zones. The ATEX classification of an area does not only require communication equipment and transmitters to be ATEX, but all machinery in the area, from the electrical switch onwards, must be classified according to the zone classification, even clothing must be classified accordingly.
- Which authority checks compliance with the rules?
- In Hungary, the Disaster Management Authority is the only authority that can carry out inspections. They also follow the internal rules of the factory or company during an inspection.
- What are the consequences if a company does not use ATEX equipment during an inspection?
- Only equipment that has been specified in the internal rules and regulations or required during the inspections can be used. If equipment is used that does not comply with the internal rules, the authority may raise an objection. 
However, this is not just a question of penalties. If an inappropriate transmitter or mobile phone is brought into an ATEX area and an explosion occurs, not only can it cause material damage but may also endanger human life. So that should be the primary consideration. 
- Are you using ATEX-rated transmitters in your current work areas?
- Yes, we do, in several areas.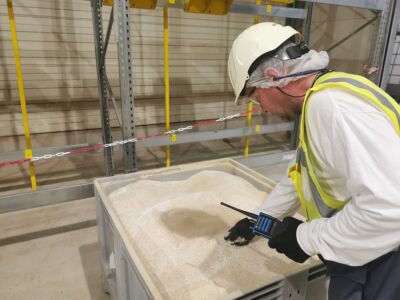 - In what kind of work area do you work, what justifies the use of explosion-proof devices?
- In our factory, the milling technology produces a large amount of fine dust, so it is a fully ATEX area.
- What type of transmitter do you use? 
- We currently use ATEX radios manufactured by Motorola. 
- Do you also use accessories, such as a headset for the radio?
- We only use the radios; in our working conditions, the radios' microphone and speaker are fully sufficient.
- What is the main consideration when choosing ATEX equipment?
- Operational safety and reliability under all conditions, of course.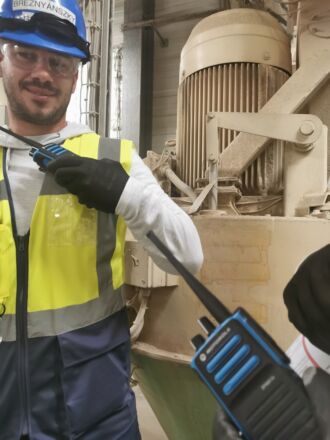 - Why is it important to use ATEX certified equipment for accident prevention?
- It is because the ATEX certification regulations require the source of ignition to be eliminated, so only certified equipment can be used.
- How often do you check the equipment? How is such an inspection carried out, if necessary?
- We check it monthly and usually by visual inspection and practical tests.
- Can ATEX devices be used outside the hazardous areas? In other words, can these devices be taken out/into the building?
- Yes, they can be taken in and out, but in all cases we only use ATEX radios indoors. For outside areas we have non-ATEX radios, so ATEX radios can be better protected by being left inside the office.
- Besides using the right equipment in a hazardous area, what else can be done to prevent dust explosions?
- The most effective way to prevent dust explosions is of course cleaning, and this is done in several steps. The first step is to keep the explosive area clear of dust, which is the primary means of preventing dust explosions. The maintenance and cleaning of machinery and equipment in the area is to prevent a secondary dust explosion. 
- Thank you very much for the useful information. 
 
So cleaning is not only important at home, you also need to pay special attention to cleanliness in dusty work areas. Communication equipment also need cleaning because, as you may have read, conventional transmitters cannot be taken into an ATEX-rated area!
Before working in areas where there is a risk of explosion, you should always check the rules with the area's health and safety inspector, but you can also ask an occupational health and safety expert.
And if you have any questions about transceivers (whether conventional or ATEX radios), don't hesitate to contact us.