SDRplay RSP2 RADIO SPECTRUM PROCESSOR, SDR RECEIVER 1kHz - 2GHz
Price:

174.20 EUR

(145.17 EUR + VAT)
The SDRplay RSP2 is a powerful wideband full-featured SDR receiver which covers all frequencies from 1kHz up to 2GHz. The RSP2 SDR receiver provides three software selectable antenna inputs, and clocking features ideally suited to industrial, scientific and educational applications. By using SDRplay's own powerful SDRuno software, this versatile receiver can monitor up to 10MHz of spectrum and accurately record RF power and noise measurements over time. A documented API allows developers to create new demodulators or applications around the platform. The SDRplay RSP2 SDR receiver is housed in an RF shielded robust plastic case.
SDRplay RSP2 SDR receiver key benefits:
Covers all frequencies from 1kHz through LF, MW, HF, VHF, UHF and L-band with no 'gaps'

Supports up to 3 simultaneously connected antennas (2 x 50-Ohms and one High-Z port for lower frequencies)

Ability to synchronise multiple RSPs

Excellent dynamic range for challenging reception conditions

Works with all the popular SDR software (including HDSDR, SDR Console, Cubic SDR and SDRuno)

ExtIO based plugin available

Software upgradeable for future standards

Strong and growing software support network

API provided to allow demodulator or application development

Multiplatform driver and API support including Windows, Linux, Mac, Android and Raspberry Pi 2/3

Up to 16 individual receivers in any 10MHz slice of spectrum using SDRuno

Calibrated S meter and accurate power and SNR measurements with SDRuno

Ideal for monitoring of ISM/ IoT/ Telemetry bands <2GHz

Ideal for portable operation
SDRplay RSP2 SDR receiver key features:
Continuous coverage from 1kHz to 2GHz

3 software-selectable antenna sockets

External clock input and output for synchronisation purposes, or connection to GPS reference clock

Up to 10MHz visible bandwidth

Powers over the USB cable with a simple type B socket

High Performance ADC silicon technology (not another 8-bit dongle!)

10 high-selectivity, built in front-end preselection filters

Software selectable AM/FM broadcast band notch filters

Software selectable multi-level Low Noise Preamplifier

Bias-T power supply for powering antenna-mounted LNA

RF shielding layer inside robust plastic case option (RSP2)

Rugged metal case option (RSP2pro)

SDRuno—World Class SDR software for Windows

Documented API for new apps development

World-class support via www.sdrplay.com 
You can find more information on the following sites:
SDRplay RSP2 SDR receiver specifications:
| | |
| --- | --- |
| Weight | 112g |
| Size | 98mm x 86mm x 32mm |
| Low current | 170mA typical (excl Bias T) |
| USB connectivity | USB 2.0 (high speed) type B socket |
| Port A Characteristics | 1.5MHz – 2GHz operation, 40dB RF gain control, 50Ω input impedance, SMA Female connector |
| Port B Characteristics | 1.5MHz – 2GHz operation, 40dB RF gain control, 50Ω input impedance, SMA Female connector, Selectable 4.7V DC out (see Bias T) |
| High-Z port Characteristics | 1kHz – 30MHz operation, 18dB RF gain control, 1kΩ input impedance (balanced), Pluggable screw connect or (CTB9208/3 plug supplied) |
| Reference clock I/O | MCX Female connector |
| IF Modes | Zero IF, All IF bandwidths, Low IF, IF bandwidths ≤ 1.536MHz |
| IF Bandwidths | 200kHz, 300kHz, 600kHz, 1.536MHz ; 5.0MHz, 6.0MHz, 7.0MHz, 8.0MHz |
| Bias T | Software selectable 4.7V @ 100mA output voltage on Port B. |
| High Temperature Stability | (0.5ppm) TCXO |
| Reference | 24MHz Reference in/out connections, In-field trimmable to 0.01ppm. |
| ADC Characteristics | Sample frequency up to 10.66MSPS, 10.4 ENOB @ 8 MSPS, 60dB SNR @ 8 MSPS, 67dB SFDR @ 8 MSPS |
| NF (max RF gain) | 8dB @ 3MHz, 2.0dB @ 10MHz, 1.6dB @ 20MHz, 1.5dB @ 40MHz, 1.5dB @ 100MHz, 1.9dB @ 200MHz, 5.0dB @ 360MHz, 2.5dB @ 600MHz, 3.5dB @ 1300MHz, 4.0dB @ 1800MHz |
| IIP3 (min LNA gain) | +15dBm @ 3MHz |
| Front End Filtering (Ports A and B) (automatically configured) | Low Pass 12MHz, Band Pass 12 – 30MHz, 30 – 60MHz, 60 – 120MHz, 120 – 250MHz, 250 – 300MHz, 300 – 380MHz, 380 – 420MHz, 420 – 1000MHz, High Pass 1000MHz |
| Notch Filters | FM Filter >50dB 80 – 100MHz, MW Filter >30dB 680 – 1550kHz |
| Front End Filtering (High-Z port) | Low Pass 30MHz |
János
|
29/01/2019
Nekem bevált, más típusokkal összehasonlítva is jó a véleményem. RH tartományban is nagyon jól dolgozik. Hasznos segítség és jó "játék" is.
Q:What is the recommended application software for remote receiver, websdr, skimmer
A:I recommend using SDR-Console v3. It has a built in client/server. SDR-Console support the client/server in LAN and WAN network environments. You can also use a Raspberry PI 3 with our SDRplay PI ISO. This prebuilt/pre-compiled ISO has all the needed utilities to deploy the Pi and RSP as a server using Soapyremote and CubicSDR. Connecting clients would install CubicSDR and connect to the PI via soapyremote. This will only work in an LAN environment and not in a WAN environment. Both software packages are available via the download section of www.sdrplay.com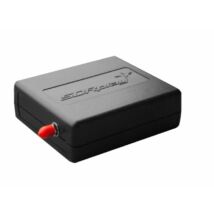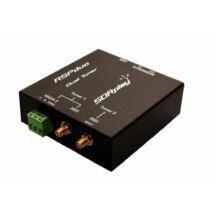 Other products you may like