Yaesu FC-30 ANTENNA TUNER
Price:

268.68 EUR

(223.90 EUR + VAT)
Yaesu FC-30 antenna tuner for Yaesu FT-857, FT-897 radios. The Yaesu FC-30 includes a cooling fan to ensure thermal stability of the critical matching elements within its compact case. 
The Yaesu  FC-30 Automatic Antenna Tuner responds to control commands from the Yaesu FT-897 Transceiver, providing microprocessor-based impedance matching on the 160 through 6 meter Amateur bands. On the HF and 50 MHz bands the impedance matching range is from 16.5Ω to 150Ω (up to 3:1 SWR). 
Accordingly, the Yaesu  FC-30 should not be expected to match "long wire" type antennas unless you have taken specific design steps to ensure that the impedance presented to the Yaesu  FC-30 is within these specifications.
There are no reviews for this product.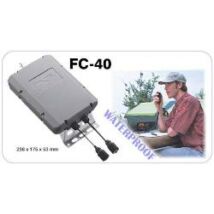 Other products you may like